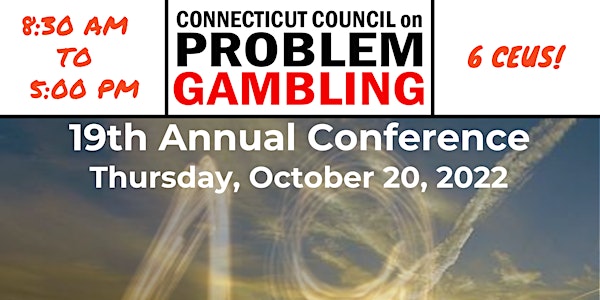 CCPG 19th Annual Conference 10.20.22
Building leaders in the field through innovative prevention, treatment, and recovery practices in the field of gambling related harm.
When and where
Location
Hilton Garden Inn Hartford South/Glastonbury 85 Glastonbury Boulevard Glastonbury, CT 06033
About this event
At the Connecticut Council on Problem Gambling's 19th Annual Conference, attendees will continue to explore the ever-changing field of gambling-related harm, highlighting emerging trends and best practices. Participants will explore emotional intelligence, universal behaviors and the impact they have on the workplace/recovery.
Registration to the conference includes: breakfast, lunch and afternoon refreshments. 6 CEUs have been approved by the CT Certification Board (CCB), International Gambling Counselor Certification Board (IGCCB) & NASW/CT CEUs for Social Work Licensure, Marriage & Family Therapist Licensure, Professional Counselor Licensure and Licensed Psychologist Licensure renewal. 2 hours approved for Veterans Services CEUs and 1 CEU for Cultural Competence for license renewal for those who attend those specific sessions.
Presentations will focus on the continuum of care including prevention, treatment, and recovery for gambling related harm & Gambling Disorder. We will explore considerations for designing programs to continue to reduce barriers, create connections and encourage change.
Attendees will learn innovative clinical interventions and prevention strategies to apply when working with at risk or vulnerable populations including youth/young adults, women, individuals in the criminal justice system, LGBTQ+, veterans and those in the military.
We will hear stories of hope, strength and recovery from those with lived experience from gambling related harm as well as develop an understanding of how self-help groups work to bring people together through meetings such as Gambler's Anonymous and Gam-Anon.
For more information please contact Kaitlin Brown at KaitlinF@ccpg.org.
**PRESENTERS**
Keynote Presentation:
David O'Brien, Senior Vice President & General Manager, WorkChoice Solutions, LLC
"Discovering the Leader in You- A Guide to Unlocking Your Full Leadership Capacity"
Today's rapid pace of work has produced an unparalleled opportunity for all employees to expand their leadership influence and impact. A key factor in being able to seize this opportunity is our capacity to demonstrate personal accountability and true leadership regardless of our role, title, or function. Not surprisingly, this capacity is most often driven by clarity and purpose both of which result from a heightened level of self-awareness. Additionally, this clarity and purpose allow us to define our own leadership formula based on our unique set of skills, experiences, and values.
While many of the fundamentals of leadership have not changed over the last 30 years, today's workplace realities require an expanded view and a deeper leadership mindset to ensure optimum performance and sustainable success. Included in this highly interactive workshop is a review of how leadership has evolved including the key dimensions of leadership success in 2022. Participants can expect to leave the workshop with new tools that can be applied immediately to expand their influence and impact both in and out of the workplace.
Michelle Malkin, JD, PhD, Assistant Professor of Criminal Justice, East Carolina University
"Problem Gambling, Gambling-Motivated Crime, and the Criminal Justice System"
Michelle L. Malkin, JD, Ph.D. explores the carceral experiences of people who have a history of problem gambling. Anonymous surveys were analyzed for types of legal consequences people faced due to their gambling. Findings allow for a fuller understanding of the different ways compulsive gamblers have been involved in the criminal justice system, primarily for acquisitional crimes to support gambling and/or to pay off gambling-related debts. Additionally, Dr. Malkin shares her own story of the consequences due to a history of gambling. The presentation includes suggestions for counselors and others who have clients who may have been involved in gambling-motivated crimes.
Heather Chapman, PhD, ICGC, BACC, Director of Gambling Treatment Program, Cleveland VA Medical Center
"Caring for our Military and Veterans: Ethical Considerations for Culturally Informed Care"
Understanding the Military and Veteran experience and culture is key to ethically and responsibly meeting these clients' complex psychosocial needs. This presentation aims to review military and veteran culture, review the incidence of medical and mental health issues, and review best practices to meet these needs. Special attention will be given to women, trauma, and gambling issues.
**BREAKOUT SESSIONS**
Jordan Wasik, LPC, SCPG, Digin Clinician, Bettor Choice, Wheeler Clinic
"The Animal-Human Therapy Team"
This breakout session will explore how animal-assisted therapy can be utilized effectively in the treatment of several different diagnoses among varying populations. The focus will be spent on building therapeutic rapport, integrating an animal ethically and responsibly, and animal-assisted interventions. Special attention will focus on gambling populations, veterans, and working with adolescents.
Haley Brown, CPS, Prevention Services Coordinator, CT Department of Mental Health & Addiction Services- Problem Gambling Services &
Anna Gasinski, CPS, Public Health Analyst, CDC Foundation & New England HIDTA
"Hidden in Plain Sight"
Hidden in Plain Sight is a presentation for adults and parents to raise awareness of signs that may point to risky adolescent behaviors. This program recreates a mock teenager's bedroom that parents, grandparents, educators, caregivers, and other adults can explore to identify hidden drug paraphernalia and warning signs associated with substance misuse or underage gambling by a teen. As part of the program, Prevention Specialists guide attendees, explain various trends and identify signs and symptoms to watch for. Prevention Specialists provide guidance for initiating conversations with teens about substance misuse, gambling/gaming and local resource information. The program also includes a question and answer session.
Jennifer Davis-Walton, M.A., ICGC-II, First Choice Services, Inc. &
Heather Chapman, PhD, ICGC, BACC, Director of Gambling Treatment Program, Cleveland VA Medical Center
"Access to Care for Gambling Disorder: Thinking Outside the Box"
Beginning with Gamblers Anonymous in 1957 and gambling treatment psychotherapy in 1972, care for people struggling with gambling has moved from traditional to innovative. This presentation will review the history of care for gambling disorder, and the advent of innovative care models, including the use of virtual care. Particular attention will be paid to groundbreaking programs of The Problem Gambling Help Network of West Virginia, including the regional counselor lead support groups, and retreat workshops, designed to reduce barriers to care, create connection, and encourage change.
Jonathan Crandall, BSW, Veteran Outreach Coordinator, New York Council on Problem Gambling
"A Covert Threat: Problem Gambling Among U.S. Veterans"
Problem gambling affects veterans at twice the rate compared to their civilian counterparts. With increased accessibility to gambling opportunities through the legalization of sports betting, mobile lottery platforms, and casino expansion, veterans must be aware of their increased risk and the services available to help them.
Gambling disorder is a hidden addiction due to its lack of clear, tell-tale signs like those that would show up on a drug screen. Veterans often gamble to cope with trauma-related conditions such as post-traumatic stress, traumatic brain injury, and military sexual trauma. Other addictions, like alcohol use and opioid-use disorder, are often co-occurring when veterans are at risk for problem gambling behavior.
This training will offer an overview of the necessary steps to ensure that problem gambling is at the forefront of new legislation and advocacy measures for veterans. To ensure participants have the tools required to address problem gambling behavior among the veteran population, the presenters will provide education and statistics to help participants draft their solutions for managing problem gambling in their capacity.
Michelle Malkin, JD, PhD, Assistant Professor of Criminal Justice, East Carolina University
"LGBTQ+ & Gambling-Disorder"
It is generally known that the LGBTQ+ community face addiction at higher rates than the general population. This workshop will provide participants with a richer understanding of LGBTQ+ individuals (including basic knowledge of identities and terms), empirical research to understand the prevalence of LGBTQ+ gambling and problem gambling, and how to use LGBTQ+ cultural competency tools to best work with LGBTQ clients and their families around these issues.
Stephen Matos, ICGC-II, Peer Counselor & Recovery Support Specialist, Bettor Choice, MCCA
"Overview of Gamblers Anonymous & Gam-anon Meetings"
Gambler's Anonymous is a fellowship of people who share their experience, strength, and hope with each other that they may solve their common problem and help others to recover from a gambling problem. Gam-Anon is a 12 Step self-help fellowship for people who have been affected by the gambling of another. Please join us in this session to learn more about both self-help meetings as a resource for those experiencing problems relating to or impacted by gambling. Members from both groups will provide participants with an overview of the 12 steps, a discussion of the 20 questions, and a review of other literature/materials. Individuals from both groups will share their stories of recovery and answer any questions.
Moderator Stephen Matos will be joined by members of both Gambler's Anonymous and Gam-Anon.