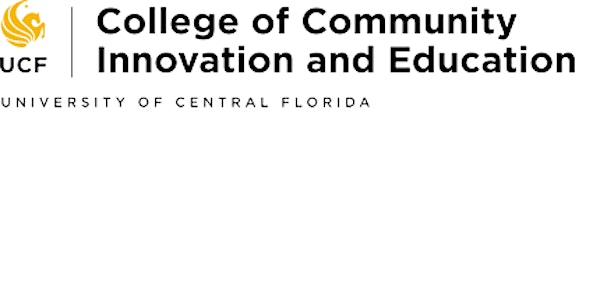 CCIE Covid Contact Tracing Event Registration- School Psychology Meetings
UCF College of Community Innovation and Education Event Supplemental Registration
By UCF College of Community Innovation and Education
Location
UCF Teaching Academy 4221 Andromeda Loop North Orlando, FL 32816
About this event
UCF College of Community Innovation and Education(CCIE) requires that all programs reserving space in a CCIE facility complete an internal registration protocol to ensure the University is able to provide contact tracing per UCF COVID-19 and CDC recommendations.
Health Protocols
The University has adopted the following health measures to help reduce the likelihood of spread of COVID-19 on campus. These measures are required of all individuals on UCF's campus and facilities. By attending this event you voluntarily assume all risks related to exposure of COVID-19 and agree to the following:
Face coverings must be worn in all inside common spaces;
Individuals are to practice six feet of physical distancing;
Persons identified by the CDC as being higher risk (CDC higher risk precautions) are encouraged to consider increased risk factors prior to coming to UCF's campus, and are encouraged to attend virtually, if possible;
Individuals on UCF's premises are to follow good hygiene guidance such as regular hand washing, avoiding touching one's face, and disinfecting all touched items;
No person should come to campus if any of the following apply:
if they are ill, or are experiencing symptoms of COVID-19 (CDC symptoms), or
if any person living in the same residence has tested positive for COVID-19, or
is sick with or experiencing COVID-19 symptoms, or
for the advised period after close contact with a person who has tested positive for COVID-19 or is ill with COVID-19 symptoms, or
until released by a healthcare provider or a public health official after receiving a positive COVID-19 test result, even if asymptomatic, or
for the period advised by a healthcare provider or public health official while waiting for COVID-19 test results.
Observe any additional guidelines that may be posted or communicated at the venue/event. All visitors must comply with the instructions given to them and the health measures outlined above. Individuals who violate this policy may be asked to leave UCF facilities.
By registering, you acknowledge that you have read the above UCF Health Protocols.
About the organizer
Mission
The College of Community Innovation and Education educates and empowers leaders to serve a diverse society through innovative instruction, strong partnerships and transformative scholarship.
Vision
The College of Community Innovation and Education transcends traditional university boundaries to engage faculty and students with the social and economic fabric of thriving, modern communities.