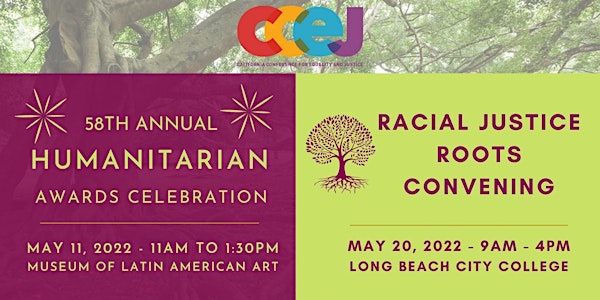 CCEJ's Humanitarian Awards Celebration & Racial Justice Roots Convening
Location
Long Beach City College
4901 East Carson Street
Long Beach, CA 90808
2nd Annual Racial Justice Roots Convening
About this event
Note about registration for the Roots Convening: to register a group, please contact Jessy Needham at jneedham@cacej.org or (562) 606-6282.
Racial Justice Roots Convening
We are excited to host our 2nd Annual Racial Justice Roots Convening in person this year! Please join us on Friday, May 20th from 8:30am-4:00pm at Long Beach City College to increase your knowledge and skills for anti-racist practices and connect you with others who want to build unity and solidarity for racial justice.
For the past two years, the California Conference for Equality and Justice has worked with thousands of people online to delve deep into the roots of racial injustice and identify the actions we can take to transform our communities. This year's event will feature a panel discussion of leaders, workshops, racial affinity spaces, and a fireside chat with notable social justice leaders.
Schedule at a glance:
8:30am - Registration & Continental Breakfast
9:00am - Welcome
9:10am – 10:15am - Morning Fireside Chat
10:15am – 10:30am - Transition to Affinity Groups
10:30am – 11:45am - Affinity Groups
11:45am – 12:00pm - Transition to Lunch / Networking
12:00pm – 12:45pm - Lunch
12:45pm – 1:00pm - Transition to Workshops / Networking
1:00pm – 2:30pm - Workshops
2:30pm – 2:45pm - Transition to Panel / Networking
2:45pm – 3:45pm - Afternoon Panel Discussion
3:45pm – 4:00pm - Closing
Workshops:
Holding Space for Race: Supporting Youth in Racial Justice Dialogues
Have you ever had a conversation with youth about race and it didn't go as well as it could have? Join us to explore strategies adult facilitators can use to create honest and age-appropriate dialogues with middle and high school aged youth. In this training, you will try on terminology, activities, facilitation questions, and reflections that can prepare you for creating racial justice spaces for youth.
Beyond Binaries: Examining the Intersections of Racial and Gender Justice
Racial Justice cannot exist without Gender Justice. In this workshop, we'll examine and practice using the concepts of White Supremacy and Cisheteropatriarchy to understand how inequities in society work in more complex ways than is usually talked about. Participants will explore and challenge binaries –Black and white, male and female– in order to start breaking down the ways that systemic Racism, Cisgenderism, Heterosexism, and Sexism limit our potential to build our most authentic and free selves, organizations, and communities.
Restorative Accountability & Cancel Culture
Across the United States, there are debates about how to hold people accountable when they harm others. Terms like "cancel culture" and "accountability" are often used, but not always in clear or consistent ways. In this session, participants will experience and reflect on their personal relationship to identity-based conflicts and accountability in these conflicts. This session will support participants in defining the differences between accountability and cancel culture. Participants will also build strategies for naming and responding to racialized harm in ways that are grounded in values of accountability, healing, and authenticity.
Taking Our Place: Building Our Readiness for Equity
It's often said that it takes all of us working together to create a more just world. It's also true that working to end injustices is hard. This workshop explores how each of us must navigate our experiences, identity, and relationship to injustices, in order to find our role in creating more equity in the world around us. We will develop strategies to support ourselves and others as we remain involved in justice work while taking into account how larger systems of oppression like Racism or Sexism impact us.
Grace Over Guilt: How Our Quest to Be Perfect is Hurting Racial Justice
Bringing Racial Justice into our values and actions is critical to the greater movement to end White Supremacy. Reaching this place of deeper alignment can be blocked by intense feelings of doubt, failure, or shame when we don't live up to our ideals. In this workshop, we will explore how pressure to be "perfect" actually limits our ability to challenge White Supremacy and build real solidarity across racial identities. This workshop is meant for both BIPOC and white identified participants.
Panel Discussions
Morning Fireside Chat - Sustaining Momentum for Racial Equity
Join us for a Fireside Chat between author Shelly Tochluk (Witnessing Whiteness) and CCEJ's Executive Director Reena Hajat Carroll on the ways we can practice and live Racial Justice work as a permanent part of our personal and work lives. Moderated by Myriam Loeschen.
Afternoon Panel - Racial Justice: Our Personal and Professional Intersections
Join a conversation with leaders from nonprofit, philanthropy, and Higher Education to develop more of an understanding of how our personal and professional quests for social justice intersect. Panelists will share the ways they have learned to personally thrive despite the racism that surrounds them. They will also offer concrete ways in which their workplaces are becoming more inclusive and what they are doing to impact the DEI landscape among colleagues.
Panelists:
Gisele Fong, The California Endowment
Jenny Vasquez Newsome, CORO
Professor Dan O'Connor, CSULB
Moderator: Dr. Shay Sorrells, Orangewood Foundation
COVID-19 Safety Protocols
Guests for both events must be fully vaccinated (including booster) for COVID-19. Masks at Humanitarian Awards Celebration are encouraged. Convening participants will be required to wear masks when indoors.
*CCEJ will not turn away anyone for lack of funds. If you would like to attend but are unable to cover the registration fees, please contact Paulina at pgarcia@cacej.org or (562) 435-8184 ext. 106.
CCEJ is a 501(c)3 nonprofit organization and a portion of your contribution is tax-deductible.