Actions and Detail Panel
C.C.C USA Youth 5th Annual Youth Retreat" The Retreat of L.O.V.E"
Thu, Jul 6, 2017, 12:00 PM – Sun, Jul 9, 2017, 4:00 PM EDT
Description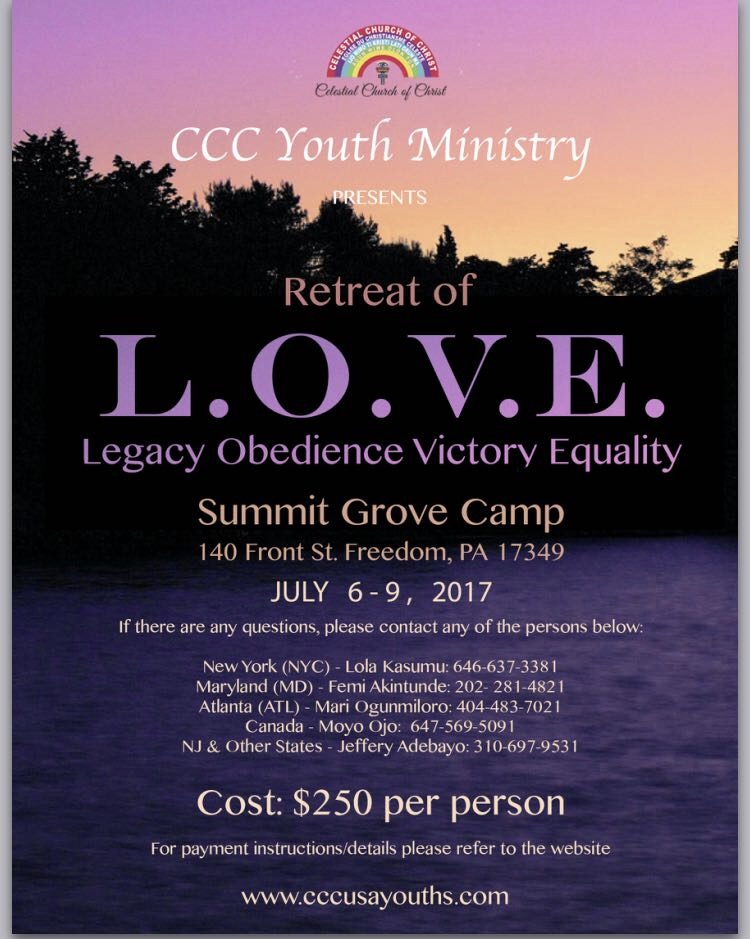 Its about that time again to register for the youth retreat! This will be the 5th annual youth retreat happening in July 2017. This event is packed with spiritual led revivals, seminars, music, praise/gala night, sporting activities and much more!!!
WHAT TO EXPECT FROM THIS RETREAT: Better connection with God, in depth teaching of CCC constitution, what CCC is really about, teaching of the Holy Spirit, connection with youths from outside your state, powerful revivals/services and great and young speakers of CCC!!!
WHAT PACKAGES COME WITH THE PAYMENT: A room for accommodation throughout the weekend, Breakfast, Lunch and Dinner and access to the sites various activities.
PLEASE REFER TO THE INFORMATION BELOW ANY QUESTIONS OR CONCERNS TO THE "CONTACT US" TAB
Date: JULY 6TH TO 9TH 2017
Location: SUMMIT GROVE CAMP 140 Front St, New Freedom, PA 17349
Price: $250 and $215 for youth coming from outside of the East Coast only!!!!!!! States in these following Regions: Mid west e.g Indiana, Minnesota, Illinois West Coast eg California South eg Texas, Georgia Florida
Website: http://summitgrovecamp.org/ (promo video down below)
Website: cccusayouths.com
Rooming: ROOMMATE(S) OF 3-4 PEOPLE OF SAME GENDER. IF YOU HAVE SPECIAL REQUEST OF A ROOMMATE LET YOUR YOUTH STATE REP FOR THE RETREAT KNOW
Things to bring:
SUTANA!!!!
ENOUGH CLOTHES FOR THE WEEKEND
SPORTING CLOTHES
SWIM WEAR
PILLOWS/BLANKETS
TOOTHPASTE/TOOTH BRUSH
BATHING TOWEL/SWIM TOWEL
MEDICATIONS (IF NEEDED)
SNACKS