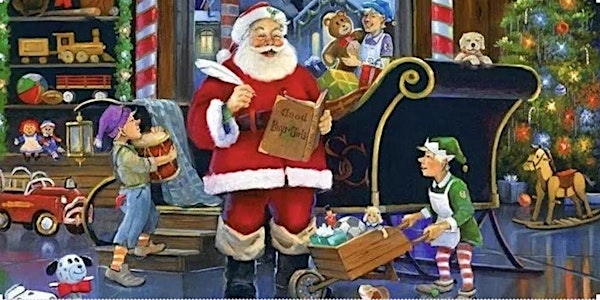 CCBQ Christmas Toy Shop-Queens
An event providing families in need the opportunity to pick out Christmas gifts for their children. Parent ID & birth certificates required.
When and where
Location
Our Lady of Mt. Carmel Church 23-20 Newtown Ave Long Island City, NY 11102
About this event
*NOTE* Please sign up only once. One registration can count for up to 10 children. Registration valid for only Brooklyn OR Queens event. In order to serve more families, you may only register for one event.
Thanks to generous donations, Catholic Charities Brooklyn and Queens is able to provide families in need the opportunity to pick out gifts for their children this holiday season.
Hard copies of birth certificates for each child (ages birth-17) MUST be presented at the door. No pictures on phones will be accepted.
A valid ID for parents or guardians collecting gifts is required. The ID must match the name on the registration.
Masks must be worn and shoppers must follow social distancing guidelines put in place by CCBQ staff and volunteers.
This is an outdoor event. Please dress for the weather and be prepared to wait outside.
Registration is for 1 ADULT per family. No children will be allowed into the event. Please arrange childcare ahead of time.
Note that there is a small set of stairs leading into the shop.
*********************************************************************************************
* NOTA * Regístrese solo una vez. Un registro puede contar hasta con10 niños (recién nacido hasta los 17 años) en su familia. Se puede registrar o para el evento en Brooklyn O en Queens. Para poder servir a mas familias, no se permite registrarse en los dos eventos.
Gracias a las generosas donaciones, Caridades Católica de Brooklyn y Queens puede brindar a las familias necesitadas la oportunidad de elegir regalos para sus hijos en esta temporada de fiestas.
• DEBE presentarse en la puerta con copias impresas de los certificados de nacimiento de cada niño. No se aceptarán fotografías en los teléfonos.
• Se requiere una identificación validá para los padres ó responsables que recolectan los regalos. La identificación debe coincidir con el nombre con el que se registraron.
• Se debe usar mascarilla y los participantes deben seguir las reglas de distanciamiento social establecidas por el personal y los voluntarios de CCBQ.
• Este es un evento al aire libre. Vístase para el clima y esté preparado para esperar afuera.
• La inscripción es para 1 ADULTO por familia. No se permitirá la entrada de niños al evento. Organice el cuidado de los niños con anticipación.
• Tenga en cuenta que hay una pequeña escalera que conduce al lugar.