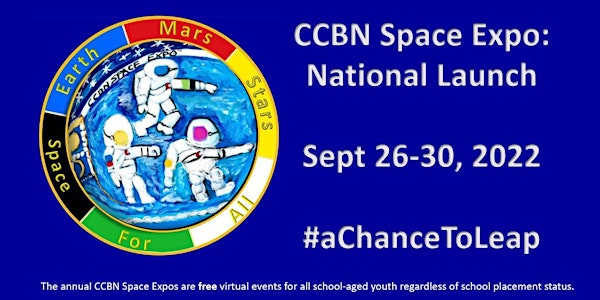 CCBN Space Expo: National Launch
No matter your life walk or status in (or out of) school, all school aged youth can participate in the CCBN Space Expo. Free virtual event.
About this event
The CCBN Space Expo is a 5-day Virtual Assembly focusing on physical and applied sciences for preschool, elementary, middle and high school aged youth in all US states and territories from a STEAM perspective. There are opportunities for EVERY school-aged youth to get involved, no matter their walk in life or status in (or out of) school, between September 26 - September 30, 2022!
This year, in recognition of the new and official logo of the CCBN Space Expos and the special CCBN Space Expo themed postcards that can be flown to space through the Postcards to Space program, there is a special emphasis on ART, which is the "A" in STEAM. Youth may fill out a special designed CCBN Space Expo themed postcard to be sent on a future Blue Origin mission and receive it back stamped "flown to space" as an inspirational keepsake, courtesy of Club for the Future.
CLICK HERE to access the pre-launch activities page and to enter submissions, including postcards, and reserve a speaker for your group/class.
Click RIGHT HERE to access the abbreviated program and to register as a speaker or presenter.
FREE, virtual event. #aChanceToLeap #CCBNSpaceExpo