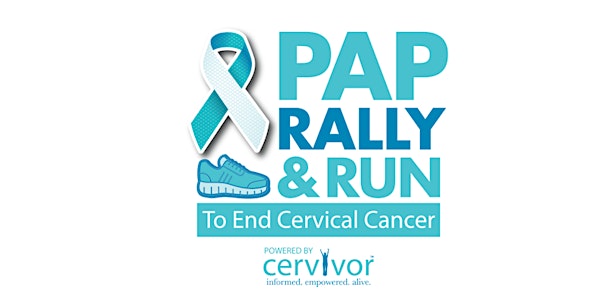 CCAM Pap Rally & Run to End Cervical Cancer
Run, walk, skip, or dance to raise awareness during Cervical Cancer Awareness Month!
About this event
In honor of Cervical Cancer Awareness Month, join Cervivor for our virtual 5k run, walk, cycle or however you choose to move! This is a week-long event to log your daily or cumulative miles. The Pap Rally and Run for Cervical Cancer Awareness is now open for registration. During the week of January 24th to January 31st we will be stepping up with our Cervivor community, family and friends.
Let's run, walk, skip, or dance into our 5K or 6250 steps (that's right counting your steps tallies up, too) to raise awareness during CCAM.
TO JOIN:
· Run or walk any time that you choose… while observing proper social distancing of course!
· Post your pics on our Facebook event page wearing your teal and white! (optional)
· Celebrate CCAM with us.
If you plan to participate, we are asking each participant to consider making a donation. Please pay/donate at least $15/person. Feel free to make a larger donation if you'd like -donations mean so much to us and have an incredible impact on what we do! If you are not able to pay/donate at this time, we understand - please still participate by choosing the No Cost Ticket.
The first 100 registrants receive a race bag!
We know that ending cervical cancer is within our reach. Help us spread the word by walking, running or whatever you can do to while helping us shine a light on cervical cancer. Be sure to use the hashtags #paprallyrun and #endcervicalcancer
Cervivor is a global community of advocates who inspire and empower those affected by cervical cancer by educating and motivating them to use their voices for creating awareness to end stigma, influence decision and change, and end cervical cancer. Find out more at www.cervivor.org.