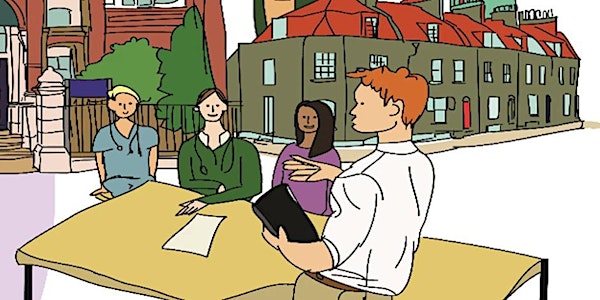 CBME North East London Student Tutor Training (NESTT)
This Tutor Training is an introduction to teaching Undergraduate medical students.
Date and time
Wed, 7 Jun 2023 06:30 - 08:30 PDT
About this event
CBME North East London Student Tutor Training (NESTT)
To study the phenomenon of disease without books is to sail an uncharted sea, while to study books without patients is not to go to sea at all. –Paraphrased from Sir William Osler
NESTT (North East London Student Tutor Training (NESTT
) are training workshops delivered by the Community Based Medical Education (CBME) unit at QMUL Barts and The London. We train students to become future clinicians.
By completing the NESTT workshops you will become a tutor and join our growing community of educators who deliver teaching in GP practices, PCNs and at the medical school.
Who can apply?
• GPs
• If you are a PCN staff (e.g., pharmacist, Physician associates)
Dates for the programme
• Wednesday 26th April 2023 (2:30 – 4:30pm)
• Wednesday 10th May 2023 (2:30 – 4:30pm)
• Wednesday 7th June 2023 (2:30 – 4:30pm)
It is recommended that participants attend all three sessions. This ticket will be valid for all three sessions.
Cost
This is a free training program.
Where?
Remote workshops on Zoom.
Overview:
Training doctors of tomorrow is vital to the future of patient care. We believe that our clinical educators matter, our students matter and relationships matter.
The literature affirms that the human dimension of teaching is central to student wellbeing, engagement, and patient care (you will hear more about this on the course).
Our three-session programme therefore engages both in the relational as well as the knowledge and skills-based dimensions of education.
• How do we build a psychologically safe learning environment?
• How do we build self-compassion and compassion for others?
• How do we manage 'difficult' students and situations?
Some of the core themes that will be addressed through interactive workshop methods include:
• preparing the practice and patients
• facilitation of student-centred learning
• giving effective feedback
• developing reflective practice
• developing as a virtual educator
The training involves bite-sized theory and plenty of dialogue and practical experience and will be supplemented by the NUGGETS (New undergraduate gems: great educational tips shared) monthly 1 hour programme of sessions open to all CBME educators, all training dates and information about courses will be updated here.
Attendees will receive a certificate of attendance on completion of an online feedback form after the training.
The sessions are facilitated by Dr Louise Younie, Clinical Reader in Medical Education and Dr Rofique Ali, GP Partner and GP Innovation Fellow in Teaching
* Engaging, inclusive and passionate trainers.
* The training was well structured, interactive with very good delivery
Joining Information:
Zoom Meeting
https://qmul-ac-uk.zoom.us/j/85651279876?pwd=UnE0V3kwZ2I5WWpJTHFCVlp2Q2wrZz09
Meeting ID: 856 5127 9876
Passcode: 805756
Further details about our teaching opportunities, application process and the requirements for new tutors / teaching practices can be found on our website. www.gptutorbartsandthelondon.org
If you have any questions about your booking, please contact Ellen Hall or CBME-Events@qmul.ac.uk