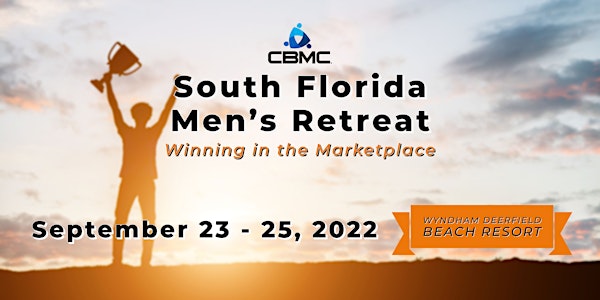 CBMC South Florida Men's Retreat - Winning in the Marketplace
3-day Men's Retreat: Friday, Sept 23rd - Sunday, Sept 25th - Cost is $225 and includes all meals, materials, and program - Space is Limited
When and where
Location
Wyndham Deerfield Beach Resort 2096 Northeast 2nd Street Deerfield Beach, FL 33441
About this event
| The Purpose |
Winning in the Marketplace
Join us - Become God's winning man in the marketplace > Be equipped to meet and overcome the challenges of today's World.
Throughout the weekend, you'll hear from special guest speakers, plus a featured guest panel about how walking in daily intimacy with Jesus, developing and living in accountable, life-on-life relations, and sharing your faith in your spheres of influence will help you, as a man of God, to 'win' in your workplace, home, and community! You'll hear success stories and gain applicable takeaways.
Don't miss this time to connect with other Christian businessmen and grow in wisdom and knowledge.
| The Venue |
| The Schedule |
FRIDAY
If you are staying at the hotel, check-in is at 4:00 PM
Check-in for the retreat begins at 5:30 in the Main Ballroom
Dinner Friday night is 6 - 6:45 PM
Session 1 Friday night is 7 - 8:30 PM (session 1 includes table discussion and we'll hear from guest speaker, Lois Chiappy, Exec. VP of East Region Equitable Advisors)
​​​​​​​SATURDAY
Breakfast is 8:00 - 8:30 AM
Connect3 Table Meetings is 8:45 - 9:45 AM
Worship is 10 - 10:30 AM
Session 2 is 10:30 AM - 12:00 PM (session 2 includes table discussion and we'll hear from guest speaker, Jack Levine)
Lunch is 12 - 12:45 PM
Worship is 2 - 2:30 PM
Session 3 is 2:30 - 4:00 PM (session 3 includes table discussion and we'll hear from guest speaker, Guy Shashaty, President of Javco & Assoc.)
Dinner is 5:30 - 6:30 PM
Worship is 6:30 - 7 PM
Session 4 is 7 - 8:30 PM (session 4 includes table discussion and we'll hear from guest speaker, Scott Sullivan)
​​​​​​​SUNDAY
Breakfast is 7:30 - 8 AM
Connect3 Table Meeting is 8 - 9 AM
Worship is 9 - 9:30 AM
Session 5 is 9:30 - 11 AM (session 5 includes chapel service and table wrap-ups and we'll hear from guest speaker, Chris Simpson, US Secret Service)
Checkout/Dismissal is 11:00 AM
*schedule subject to change
| The Event Sponsors |
MOODY RADIO, FLORIDA - Visit their Website > moodyradio.org/stations/florida
GOOD NEWS, FLORIDA - Visit their Website > goodnewsfl.org
| The Accommodations |
Please note that participants are NOT required to stay at the hotel in order to participate in the retreat. If you do choose to stay overnight, here is the hotel registration information:
$139/nite…City View…2 Queen Beds
$189/Nardone…Ocean View…2 Queen Beds
Rooms can be shared
Registration closes 9-10-22
13% sales and occupancy tax not included
Parking…Self Park-$5/Nite…Valet-$25/Nite per car
To Register for the hotel :
Contact the Wyndham Hotel and ask for Quanisha Bussey… Monday - Friday from 9-5 by phone: 754-227-4308 or by email: qbussey@wyndhamdeerfield.com
or
Register On-Line at this specific link HERE