Description
To Christian Men in the Marketplace
Do we really understand who Christ has called us to be in the workplace? 2 Corinthians 5:20 tells us, "Now then, we are ambassadors for Christ, as though God were pleading through us; we implore you on Christ's behalf, be reconciled to God." What does our title Ambassador for Christ mean?
Join us as we come together at the beautiful Fredericksburg Hospitality House and Conference Center to share about the exciting Marketplace Ambassador Initiative, which is a national and local movement to bring together God's Marketplace Ambassadors for Christ! We welcome all men from all churches who want to learn how to become more effective ambassadors for Christ at work, at home and together.
Our speaker will be Mark Whitacre, an Ivy League Ph.D. and the highest ranked executive of any Fortune 500 company to become a whistleblower in US history. He was responsible for uncovering the ADM price fixing scandal in the early 1990's. His undercover work with the FBI during this scandal was the inspiration for the major motion picture, "The Informant," starring Matt Damon as Mark Whitacre.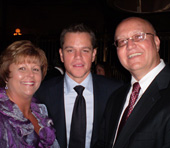 Come hear Mark's remarkable story of grace and learn how YOU can be a part of the Marketplace Ambassador Initiative in our city!


Reserve your seat today!
Event Contact: Steve Goss, stevegoss@simventions.com