The virtual meeting proceedings will be conducted exclusively in Spanish only.
About this Event
After registering, you will receive a confirmation email that will contain your Zoom meeting link. Note, the meeting link is in the 'Additional Informational' section of the email (at the bottom of the email).
Please note, this meetings proceedings are conducted in Spanish only.
Event Contact: Omar Aleman - 954-593-6221 or alemanassoc@comcast.net
Speaker: Teo Babun, President & CEO, Outreach Aid to the Americas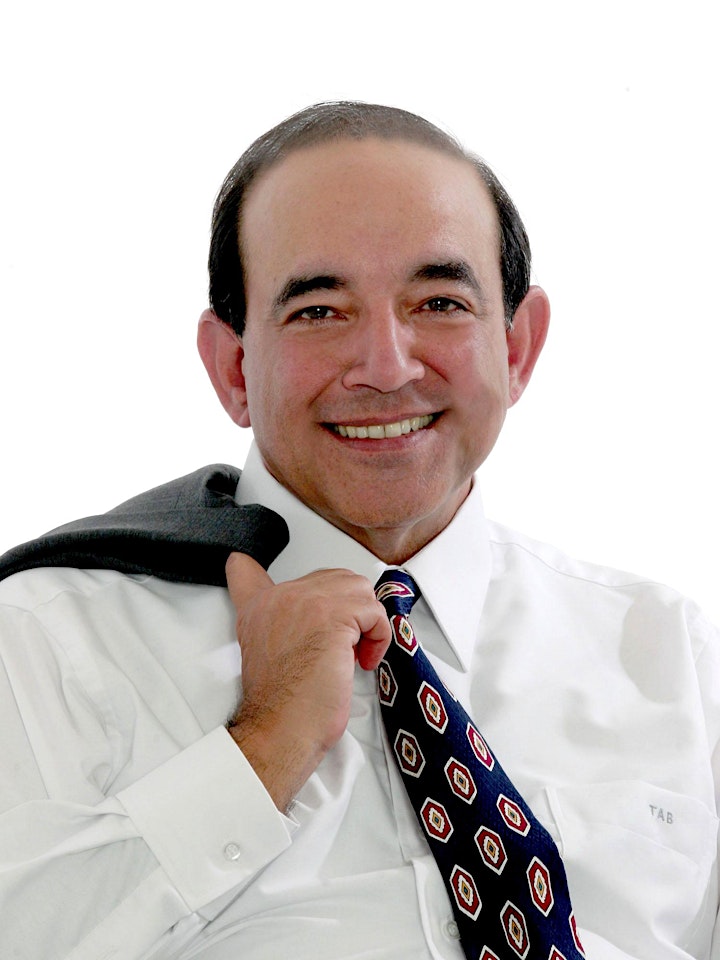 Teo A. Babún nació en Cuba, Mary en Finlandia. Los abuelos de Teo nacieron en Belén, lugar de nacimiento de Cristo. Teo y su esposa Mary son miembros de la University Baptist Church de Coral Gables. Es diácono y preside el comité de planificación a largo plazo de su Iglesia. Tienen dos hijos, una hija y cuatro nietos. Residen en Surfside, Florida com su esposa Mary de casi 53 años de matrimonio.
Babun tiene una reconocida carrera en la manufactura, operaciones de barcos, embarque y distribución de mercancías y en las inversiones bancarias. Ha conducido extensa investigación académica en la demografía, en la religión, en las necesidades sociales y en la iglesia cristiana en Cuba. En 1981 Babún recibió el premio de graduado con excelencia de la Universidad Tecnológica de Michigan por su éxito en crear y producir productos electro-mecánicos innovadores.
Babún es el autor de varios estudios y reportes relacionados con la infraestructura industrial, transporte marítimo, e industrias claves en Cuba. Su más conocida publicación es La Guía Empresarial para la Reconstrucción de Cuba (The Business Guide to Cuba), un estudio sobre la infraestructura económica de Cuba de la cual se han vendido mas de 10,000 ejemplares. Su mas reciente publicación (Florida Press-Septiembre de 2005) es titulada (traducción) La Revolución Cubana-un engaño mundial. También ha publicado libros de la fe. Las publicacion más recientes incluyen: Cómo enfrentar tu crisis personal
El Dr. Babún tiene una larga historia de participación en actividades evangélicas: Cruzada Estudiantil para Cristo, Ministerios a Ejecutivos, Ministerios de Búsqueda y Visión para Creyentes. Inició Vida Joven para Miami con el fin de facultar a los jóvenes a realizar cambios y crecimientos positivos en su vida. Bajo su liderazgo, ayudó a más de 900 niños a mejorar su imagen propia, aprender valores positivos y las habilidades necesarias de la vida. Ha influenciado en la vida de más de 20,000 adolescentes en el sur de la Florida.
Ahora dedica su vida a la reedificación de la creciente iglesia cristiana de Cuba y al incremento de su influencia social, y a escribir libros que fortalecen la fe. Las publicaciones más recientes incluyen: Cómo enfrentar tu crisis personal y La revolución cubana: Los años de promesas.
Es director ejecutivo nacional del Evangelical Christian Humanitarian Outreach for Cuba (ECHO-Cuba), un ministerio que apoya a la creciente iglesia cristiana evangélica en Cuba y de American Relief donde coordina ayuda para víctimas de desastres naturales.
El Dr. Babún es ex director del Consejo Atlántico de Estados Unidos y ha servido en las juntas directivas de muchas organizaciones cívicas, educativas y privadas. Algunas de éstas incluyen el Consejo Económico Ambientalista de la Sociedad Nacional Audubon; la Junta Consultora Nacional de la Facultad de Comercio y Economía de la Universidad Tecnológica de Míchigan. Fue también fideicomisario de la Facultad de Comercio de la Universidad Internacional de la Florida, vicepresidente de la Junta Consultora del Ejército de Salvación y miembro del Comité Ejecutivo de la Cámara de Comercio de Miami Metropolitano.
Teo es Ingeniero eléctrico y licenciado en administración de negocios, en 1981 recibió el Premio de Alumno Sobresaliente de la Universidad Tecnológica de Míchigan. Ha recibido un doctorado honoris causa en literatura otorgado por el Seminario Internacional de Miami y doctorado (Doctor of Ministry) de Vision Internacional University.
Para más información vea: www.DrTeo.US
DR. TEO A. BABUN, JR.
Dr. Babun is the President & CEO of Outreach Aid to the Americas, Inc. (OAA). The organization responds to the needs of the vulnerable people in the Americas Region through relief and development programs. In 1997, after an award-winning career in manufacturing and later in the maritime industry, Dr. Babun decided to dedicate the rest of his life to humanitarian ministry in support of vulnerable persons in the region and the emerging church in Cuba. During his business career in 1980 Dr. Babun developed the TO-5, then the "world's smallest solenoid", and was recognized for introducing the first private investment (and later a Hedge Fund) for the deconstruction of a post-Castro Cuba, as well as for managing a fleet of 50 container ships and various bulk carrying vessels.
Dr. Babun is a graduate of Michigan Tech University with a major in Electrical Engineering, and a Masters in Business Administration. In 1981, he received the Outstanding Alumni Award from the university for his innovative business efforts, and later was inducted into the Michigan Tech's Electrical and Computer Engineering Academy. In 1999, he received an Honorary Doctor of Letters from Miami International Seminary for his philanthropic endevours, and in 2006 he received a Doctor of Philosophy (Ph.D.) from Vision International University.
Publications
Dr. Babun is the author of various books and more than 100 manuscripts and reports on Cuban businesses, infrastructure, and economic issues, including The Business Guide to Cuba, a special report dealing with current and post-transition business opportunities in the island (more than 10,000 copies sold), The Aggregates & Cement Industry in Cuba, and Cuba's Ports and Airports Gateway to the Future. His most recent book titled The Cuban Revolution-years of promise is a historical account of the Cuban revolution from 1953 to 1963.