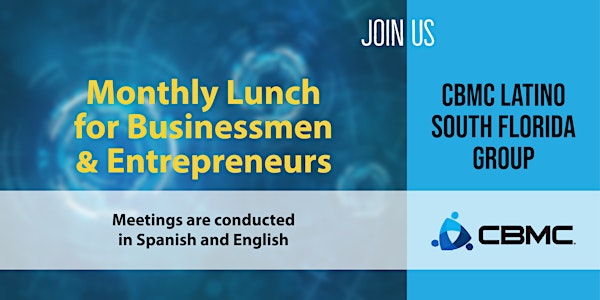 CBMC Latino So FL Lunch for Businessmen and Entrepreneurs
Join us for lunch at Las Vegas Cuban Restaurant, 11500 NW 41st Street, Doral, FL 33178
When and where
Location
Las Vegas Cuban Cuisine 11500 Northwest 41st Street Doral, FL 33178
About this event
Please Note: This event has been canceled due to pending severe weather.
Guest Speaker:
`Jose 'Cheo" Rodriguez: President, Handyman PRO Solutions; Vice President, Heavenly Hands Property Services; Board Member, Heavenly Hands Foundation
Jose "Cheo" Rodriguez was born and raised in San Juan Puerto Rico. He graduated from King's College in Pennsylvania with a bachelor's degree in Business Management and a minor in Marketing and recipient of a Diploma in Risk Management & Insurance from The College of Insurance, now St. Johns University in New York. Jose's professional experience comes from his employment in Fortune 500 companies such as ADP and Success Factors an SAP Company overseeing marketing and sales development operations for the Caribbean and across Latin America. In addition, Jose was part owner of Shred-It Puerto Rico, a mobile document destruction and recycling services franchise in the island. During Jose's 8-year tenure as the General Manager of Shred-It, he directed paper shredding operations throughout the island of Puerto Rico managing a fleet of 10 document shredding trucks and a team of 25+ members.. Cheo got married to Ginny Rodriguez in 2002 and has two wonderful kids, Alanis 19 and Gian 22. He moved to the mainland in 2014 with his family settling down in South Florida. Upon his arrival to South Florida, he went through many changes in his life that ended up bringing him to accept Jesus as his Lord and Savior. Since that moment he has dedicated his life to representing and bringing Jesus to everything that he does in life and in Business. He ran a Security Agency that concentrated on servicing Church Security needs. As the pandemic hit and everything came to a halt, Ginny and Cheo reinvented themselves and pivoted in the handyman service industry with much success. From there they joined forces with Heavenly Hands Property Services and now have a team of 60+ team Members and several vertical companies under the Heavenly Hands Foundation that point to the true owner of everything in this world, GOD.
José "Cheo" Rodríguez nacido y criado en San Juan, Puerto Rico. Se graduó de King's College en Pensilvania con una licenciatura en Administración de Empresas y una especialización en Mercadeo y recibió un Diploma en Gestión de Riesgos y Seguros de The College of Insurance, ahora St. Johns University en Nueva York. La experiencia profesional de Cheo proviene de su empleo en empresas Fortune 500 como ADP y Success Factors, una empresa de SAP donde superviso las operaciones de desarrollo de mercadeo y ventas para el Caribe y América Latina. Además, Cheo era copropietario de Shred-It Puerto Rico, una franquicia de servicios móviles de destrucción y reciclaje de documentos en la isla. Durante el mandato de 8 años de José como Gerente General de Shred-It, dirigió las operaciones de trituración de papel en toda la isla de Puerto Rico administrando una flota de 10 camiones trituradores de documentos y un equipo de más de 25 miembros. Cheo se casó con Ginny Rodríguez en 2002 y tienen dos hijos maravillosos, Alanis 19 y Gian 22. Se mudaron en 2014 con su familia estableciéndose en el sur de la Florida. A su llegada al sur de la Florida, pasó por muchos cambios en su vida que lo llevaron a aceptar a Jesús como su Señor y Salvador. Desde ese momento ha dedicado su vida a representar y llevar a Jesús a todo lo que hace en la vida y en los Negocios. Dirigió una Agencia de Seguridad que se concentraba en atender las necesidades de Seguridad de la Iglesia. Cuando llegó la pandemia y todo se detuvo, Ginny y Cheo se reinventaron y giraron su norte en la industria de servicios de Handyman con mucho éxito. A partir de ahí, unieron fuerzas con Heavenly Hands Property Services y ahora tienen Familia que cuenta con más de 60 miembros y varias compañías verticales bajo Heavenly Hands Foundation que apuntan al verdadero dueño de todo en este mundo, DIOS.