Description
Join us February 15th for lunch with special guest speaker, Robert M. Gallion, Real Estate Appraiser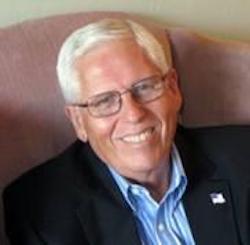 Romans 8:1 tells us that there in now no condemnation for those who are in Christ Jesus. Fortunately for Bob there is condemnation on Earth, or he would be out of a job. Bob is one of the best known and most highly respected condemnation appraisers in South Florida. He is also a native of Miami and a graduate of both Ft. Lauderdale High and Florida State University.
Bob was abandoned as an infant and placed in an orphanage then adopted at age 8. At 79 years young he has recently been united with his birth siblings. This is a story of God's redemption and grace that you don't want to miss.
In 1973 he formed a partnership with Ed Wilson known as Gallion-Wilson LLC. Since then Bob has been active primarily in two areas: condemnation appraisals for State and local government and expert witness work for real estate litigation.
Bob has been married to Susan for 51 years. They have two sons: Robert and Morris one daughter, Edith, and five grandchildren. Bob has served in leadership in his church for many years including as Chairman of the Deacon Body. In his spare time not spent with his grandkids he enjoys hunting.
Event Contacts:
Jill Carrion at JAM@Trippscott.com
William Davell at wcd@trippscott.com