Description
Reserve your seat, register today for the upcoming Fort Lauderdale Lunch. The guest speaker is Desmond Cook.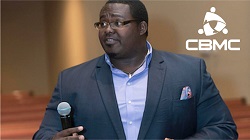 Meeting young people at their passion, Desmond Cook began volunteering with Broward Fellowship of Christian Athletes before being led to serve full-time as Metro Director for Broward County and chaplain for Florida Atlantic University's football team.
Previously, Desmond served as Chief Operating Officer at Multaply, Inc (M3 Healthcare Technologies). Prior to Multaply, Mr. Cook held several senior level positions where he worked on streamlining and evaluating sales and operational processes. Most recently he was the Recruiting and Logistics Coordinator for DEE's Educational Services. Before DEE's he held the position of Director of Operations for Relief Group International, a successful direct response company.
He started reLACS (re-Live Always Christ Strong) Ministries, a fellowship group designed to encourage young adults to uplift and minister to each other in a "relaxed" environment. He sits on the Board of Directors and is Treasurer for The McDougle Family Foundation, was Vice President of Youth Power Movement (a non-profit organization dedicated to "empowering our youth, strengthening their communities, and uniting our world"), and was dean of Biblical Studies at First Bethel Baptist Church.
Before entering the private work sector, he was a math and leadership (Student Leadership Development Corps) instructor, as well as a successful football, track & field, and Academic Games coach. He has been honored and awarded with: Stanford University's Greg Piers Memorial Award Winner; Ernie Nevers Memorial Scholarship; National Society of Black Engineers (NSBE Member); Stanford Black Scientist and Engineers (SBSE Treasurer); Brian-Piccolo Award recipient for top student athlete; Miami-Herald Student Athlete of the Year Award Finalist; and Clinician for Florida and Texas All Sports Clinics.