Description
Join us for lunch with special guest speaker, Micah Linton, founder and president of Rimrock Companies, LLC.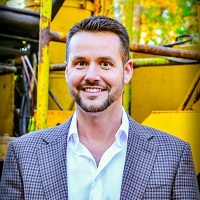 Rimrock Companies, LLC specializes in commercial real estate development. Micah and his partners currently have projects throughout the country and develop properties in a variety of different industries.
Micah was born in Montana before moving with his family to Lake City, FL. He grew up in a household where resources were scarce which lead him to drop out of school at a young age and go to work to help support his family. The work ethic he developed as a teenager combined with his motivation to succeed led him to start his first company, Rimrock Design, Inc. in 1998 which grew into an industry leader for tile and flooring solutions. Micah began converting his industry knowledge, contacts, and experience into commercial real estate acquisition, development, and construction which promoted the foundation of Rimrock Development in 2003. Micah continues to be an active part in each of his companies and lives with his wife, Leah, and 4 children in Lake City.
Event Contacts:
Jill Carrion at JAM@Trippscott.com