CBMC welcomes speaker Jesse Carroccio, Station Manager, Moody Radio South Florida-WRMB-89.3 FM
About this event
Questions about the event? Contact Roemer "Rick" Ricardo, via email: rick@rrrconsultingservices.com or via mobile: 954-661-2793
After registering, you will receive a confirmation email that will contain your Zoom meeting link. Note, the meeting link is in the 'Additional Informational' section of the email (at the end of the email). You will also receive reminder emails that will contain the link to the meeting.
About the Speaker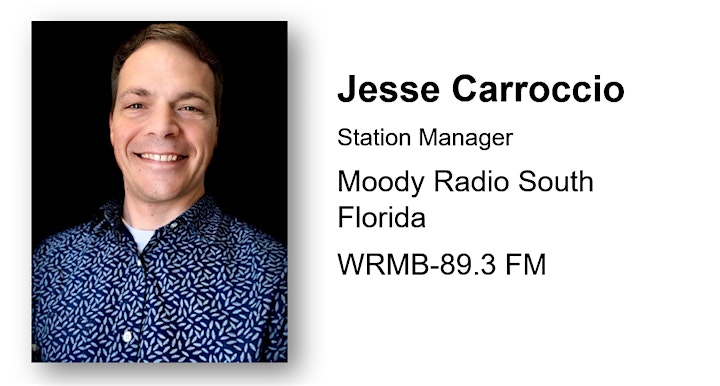 Jesse Carroccio began serving as Station Manager at WRMB in February 2020. Jesse managed KCMH, a Moody Radio affiliate in Mountain Home, AR for four years and also worked in the financial and insurance industry.
Jesse and his wife, Tiffany, have five children ranging in ages from 21 to 6. Jesse has served as a missionary doing church planting in Albania and has also served in the local church as a Youth Pastor and Elder.
Organizer of CBMC Coral Springs Meeting
CBMC (Christian BusinessMen's Connection) is focused on reaching men for Jesus Christ in the workplace in the West Broward, Boca, Fort Lauderdale, Miami and Coral Springs areas.
Area Director: Steve Solomon - ssolomon@cbmc.com : 954 805-0351
Want to be notified about our upcoming events? Click FOLLOW.