Description
Join us for lunch every 2nd Thursday of the month. This month's speaker will be Joel Ceballos.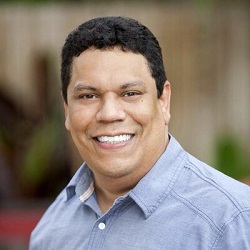 Joel Ceballos combines his nearly 30 years of experience in Christian publishing, Wealth Management, and Philanthropy, to advance the ministry of 4KIDS in the areas of Strategic Partnerships and Gift Planning.
Joel's publishing career began at Vida/Life Publishers International where he also enjoyed the opportunity to see the expansion of the OneHope ministry. Joel also led the acquisition editing and marketing teams at Thomas Nelson's Spanish book publishing division, Grupo Nelson.
Joel also designed the landmark study Hispanic America: Faith, Values, and Priorities published by Barna. All the while, Joel was advancing the ministry of the American Bible Society by leveraging his background in Trust and Wealth Management. At American Bible Society, he launched Cuba: Million Bible Mission, a five year $5.4 million multinational ministry endeavor co- sponsored by leading Bible agencies across the globe dedicated to eradicating Bible poverty in Cuba.
At Bank of America's Global Wealth & Investment Management division, Joel served private wealth clients manage their financial challenges and opportunities. He also served at Citibank, and Regions Private Wealth Management. His area of specialty is investment and trust management. Joel is a Certified Wealth Strategist and has a Certified Financial Planning certificate from Barry University.
Today, Joel combines his philanthropic advisory, trust, and estate planning expertise, and Christian publishing to design partnerships with individuals, ministries, and corporations to solve the foster care crisis in the United States through the mission and vision of 4KIDS.
Joel helps Partners advance the ministry through heartfelt generosity toward kids in crisis in Broward, Palm Beach, and the Treasure Coast. For nearly 30 years, Joel has been a champion for children suffering from abuse, abandonment, and neglect as well as homeless, pregnant teens in our community.
Born and raised in Manhattan, New York, Joel graduated from Syracuse University. He enjoys life as a dad of three sons Brandon, Carlos, and Andrew.

Event Contact: Harley Storrings, harley@storringslaw.com / 954-665-6806


Please Note: This event is open to Business and Professional Men and Women.


---


To make Fort Lauderdale and South Florida a better place to work, live and play…
Beautiful Coral Springs famous bridge: