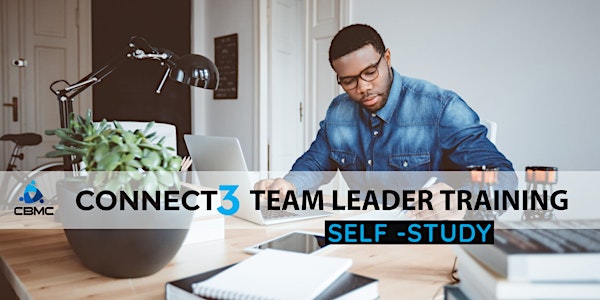 CBMC Connect3 Team Leader Training - Self-Study
Connect3 Team Leader Training
About this event
Connect3 Team Leaders are required to be Network Members - membership is free. By registering for this training, I agree to membership and CBMC's Statement of Faith.
Men, if you're ready to establish, equip, and mobilize a team that is connected to the vision and mission of CBMC™ while connecting Marketplace Ambassadors to God, to one another and to the cause of bringing the gospel of Jesus Christ into the work place… this training is for you!
Benefits of the self study include:
Easy to use study tools
Study at your own pace from your home/office
Experienced facilitators can provide assistance and answer questions, as needed
Available follow up with next steps and additional resources
Why Take Connect3 Team Leader Training?
You have often heard that organizations rise and fall on leadership. Our vision in CBMC is to develop leaders who can advance the cause of the Gospel in their cities. Our Connect3 meetings are weekly gatherings of Christians in the marketplace to be equipped and encouraged so that God's economy of multiplication can be realized in our teams.
Have you ever wondered: What kind of leader does it take to multiply Kingdom work in the business world? Am I being called by God to be part of marketplace evangelism and discipleship? How can a team produce greater results by working together?
Join us for this training to get answers to these questions and more. Through this training, you can develop as a leader with others who catch this vision and possess that sense of urgency to multiply the Kingdom in your city.
Contact Tyler DuBose with inquiries - tdubose@cbmc.com
About the organizer
Christian Business Men's Connection USA
CBMC connects business and professional men to God and each other through Christian peer groups, one-on-one mentoring, and events, so they become more like the men God designed them to be.
Want to be notified about our upcoming events? Click FOLLOW.