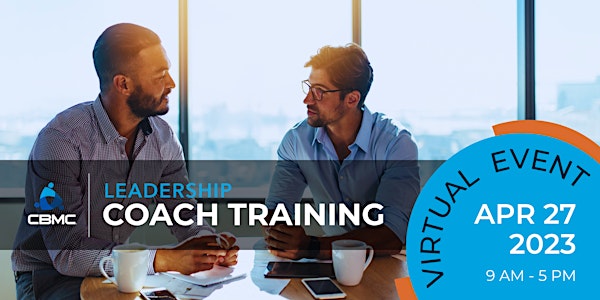 CBMC Central Midwest Leadership Coach Training
Leadership Coach Training is a workshop focused on intentional development of coaching skills in Christian businessmen for real life change.
Date and time
Thursday, April 27 · 9am - 5pm CDT
Location
Virtual Event Virtual Event Overland Park, KS 66212
Refund Policy
Contact the organizer to request a refund.
About this event
A full-day, virtual training event
LIMITED AVAILABILITY
Sign up today!
Registration closes on April 17th at noon.
Course materials are included and attendees will also enjoy a complimentary one-hour coaching session upon completion of the training.
What you can expect
| Workshop Day 1 |
:: Kick-Off Full Day ::
Runs from 9 AM to 5 PM. Professionally facilitated with breakout discussion facilitated by a certified coach trainer. We discuss:
The art of leadership coaching
What is coaching - what it isn't
Coaching values - living them out
The practice of leadership coaching
Intuitive listening
Powerful questions
Goal setting and action steps
Sustainable change
Establishing a coaching culture
Peer-to-Peer Coaching Practice (7 weekly one-on-one Zoom meetings with a coaching peer) - you will have the opportunity to practice the coaching principles in a comfortable, non-threatening environment with a peer in the program. You will also have the opportunity to listen in on coaching conversations and experience coaching conducted by a certified Christian Leadership Coach.
Reading and Reflection Exercises - A specific agenda and format to walk you through concepts and exercises that reinforce the primary principles and skills of Christian Leadership Coaching - 7 weeks between Workshop 1 and Workshop 2.
| Workshop Day 2 |
:: Final Practicum ::
Runs 1/2 day and will be set by the trainer and the team on Day 1 of the training. This workshop ties all of the concepts and practice together providing a rich leadership coaching experience.
__________________________________________
LCT: 2023 Training Opportunities
Our 2023 schedule is set for Leadership Coach Trainings.
We have two more opportunities available this year, should you be unable to make the April session work with your schedule. Registration is open for each event - just follow the date links below.
Why attend?
Listen as Dr. Roger Erdvig, program director, shares a short intro on the framework of coaching and how it transforms the way we lead.
Gary shares why this training is a valuable investment - click below.
Questions?
> For detailed event information, contact Sean West.
swest@cbmc.com
913-244-1205
> For more general info on Leadership Coach Training, click here.
From Dusty Clevenger, Strategic Advisor, Clevenger Advisory
"Leadership Coach Training has helped me to see people as God sees them. In relationships with others, I have learned skills to help draw out the deep water of their soul, to be more of who God wants them to be. As a result, I am a better husband, friend, leader, and follower of Christ."
From Tim Bonnell, Jr, Pres./Owner Aeris Insurance Solutions
"Leadership Coach Training helped me become a better leader, husband, and father. Through the process I learned that I didn't actively listen well to others, so I wasn't able to communicate with them in the most meaningful way. I discovered how to ask good questions that help uncover positive revelations and create progress and goodwill in business and personal relationships."
From John Kliewer, Partner/Sr. Financial Advisor, Beyond Wealth Advisors
"Leadership Coach Training has taught me how to do for one that which I wish I could do for many. I desire to be the spiritual leader of my family and to develop intentional spiritual friendships. My purpose is to be the man God called me to be by creating the environment where each person I coach can fulfill their God-given potential."
From Dennis Wiley, Chairman, Jayhawk Fire Co.
"Leadership Coach Training has shown me the value of investing in another man's life, and how simple it is to do. Moving from the transactional to the relational has energized my life. I have purpose, direction, and new skills to develop deeper relationships with my wife, kids, peers, and whomever God puts in my path."
From Jim Marmon, Owner, Marmon Commercial LLC
"It [Leadership Coach Training] has given me a whole new approach to relationships. I used to think I had to have all the answers. There is a lot of pressure in that. Now I know how to ask powerful questions that help others to discover their own solutions. I believe in people again and actively search for ways and opportunities to coach them."
From Jim Hanna, Private Wealth Advisor
"LCT was practical training that I can use in my business, family, and really all life relationships. The content/curriculum was world class, and the format was even better. Over 8 weeks I was reminded, received feedback and actually practiced implementing the teaching. Ongoing connections with peers and the leader over this extended time helped me get so much out of this course. Thank you!"
From Phillip Kelley, Author, Communicator, Influencing the Influencers
"This is the second time I've participated in Leadership Coach Training and, although I didn't think it could get better, it really did! To top matters off, because of the COVID-19, we did the entire 8 week course via ZOOM. I can say that, having experienced both the in-person version and the ZOOM version, it was just as effective. In fact, because other men from other cities participated, we gained various perspectives that we otherwise would not have had.
As I work with NFL athletes and world-class leaders, this training is literally priceless…I can't recommend Leadership Coach Training enough."
About the organizer
Christian Business Men's Connection of Central Midwest
CBMC connects business and professional men to God and each other through Christian peer groups, one-on-one mentoring, and events, so they become more like the men God designed them to be.
Contact us to learn more.
Gary Tenpenny -
Senior Area Director, gtenpenny@cbmc.com, 913-219-9064
Sean West -
Area Director, swest@cbmc.com, 913-244-1205
Click HERE to support the ministry of CBMC Central Midwest Region
Want to be notified about our upcoming events? Click FOLLOW.