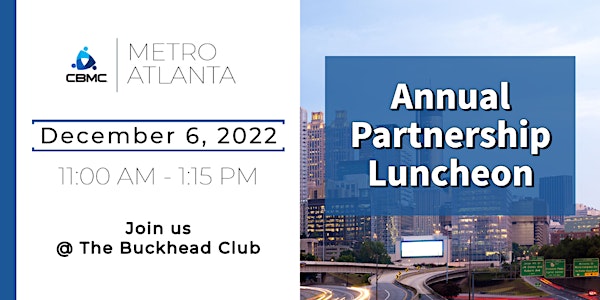 CBMC Atlanta Annual Partnership Luncheon
You're invited to the annual partnership luncheon - COME EARLY - Networking begins at 11:00 AM
When and where
Location
Buckhead Club 3344 Peachtree Road Northeast Atlanta, GA 30326
About this event
CBMC is focused on one mission: to build God's kingdom one businessman at a time. This luncheon will be a time to unite around this one mission and highlight opportunities for you to partner in this impactful kingdom work. You'll hear from CBMC Metro Atlanta Area Director, John Posey, and our guest speaker, Russ Crosson.

ABOUT RUSS CROSSON
Russ Crosson is executive vice president and chief mission officer of Ronald Blue Trust. Russ was hired in 1980 as the second employee of Ronald Blue Trust. Russ has worked extensively in all areas of financial planning, specializing in comprehensive financial, estate, and philanthropic planning, as well as generational family wealth management and transfer.
Russ serves as chief advocate for the heart and soul of the organization and works to ensure the mission of the company is carried out with integrity in every area of the organization with a focus on making sure the company's mission is passed down and inculcated into future generations. Prior to his current position, Russ served as president and CEO of Ronald Blue Trust (2002 – 2017). From 1999 – 2002, Russ served as executive director of the National Christian Foundation (NCF).
Russ graduated from Kansas State University with a BS in mathematics and a master's degree in education. Russ is the author of several books including Your Life… Well Spent, The Truth About Money Lies, What Makes a Leader Great, and Your Money Made Simple. He has also been a featured speaker in many venues including Promise Keepers, Issachar Summit, and America's Best Hope.
We look forward to seeing you at the luncheon!

Be a Corporate Sponsor
Bronze Sponsor $ 1000.00
Silver Sponsor $ 2500.00
Gold Sponsor $ 5000.00
Sponsor Benefits
Our Corporate Sponsorship Program not only underwrites some of the expenses of this event but it also raises Start-Up Capital for our Young Professional Program.
Bronze 1000.00
2 Meal tickets
Digital display
1/2 Vendor table for products and marketing collateral
Silver 2500.00
5 Meal tickets
Marketing Collateral in all go packages
Digital display
1/2 Vendor table for products and marketing collateral
Logo on CBMC Atlanta Website
Gold 5000.00
10 Meal tickets
Table Top of your choosing
Marketing Collateral in all go packages
Digital display
Public Spotlight during gathering
1 full table for products and marketing collateral
Listed in MAI Atlanta Mobile App (name, picture, contact information, video)
Logo placement on email campaign