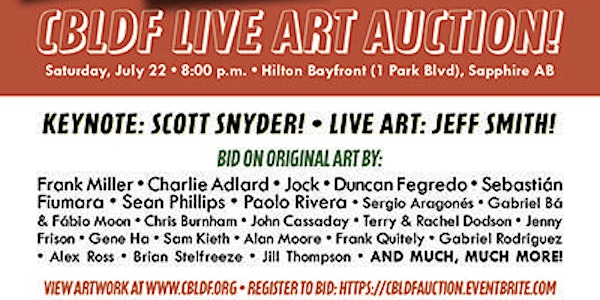 CBLDF Comic-Con Art Auction, Presented by IDW, Splash Page Comic Art & San...
Location
Hilton San Diego Bayfront
1 Park Boulevard
Sapphire AB
San Diego, CA 92101
Description
Join IDW Publishing (Booth 2743) and the San Diego Comic Art Gallery and Splash Page Comic Art (Booth 4400) to support Comic Book Legal Defense Fund's Comic-Con Live Art Auction, happening Saturday, July 22, at the Hilton Bayfront Sapphire AB. The event kicks off at 8:00 p.m. and features live art by Jeff Smith, creator of Bone and host of Cartoon Crossroads Columbus (CXC), which will be auctioned off at the end of the night!
Bid on original art, including work by CBLDF Defender of Liberty Frank Miller, Splash Page Comic Art starsincluding Charlie Adlard, Jock, Duncan Fegredo, Sebastian Fiumara, Sean Phillips, and Paolo Rivera, plus contributions from CBLDF supporters including Sergio Aragones, Chris Burnham, John Cassaday, Terry and Rachel Dodson, Gene Ha, Sam Kieth, Carla Speed McNeil, Gabriel Rodriguez, Alex Ross, Jill Thompson, and many, many more.All this, plus out-of-print Artist Editions from the IDW vaults! More than 60 lots will be on offer to benefit CBLDF's important work, with more surprises to come in the days leading into the con!
This auction is open to all – YOU DO NOT NEED A COMIC CON BADGE TO ATTEND!
View the pieces online: http://s758.photobucket.com/user/CBLDF/slideshow/SDCC%20AUCTION%202017
REMOTE BIDDING
If you are unavailable for the live auction, but still interested in bidding, please send a list of the pieces you are interested in with the HIGHEST donation you would be willing to bid. If the high bid on the auction floor is below your highest bid, your final bid will be 10% higher than the last highest bid on the floor.
Your bids should be delivered to Betsy Gomez (betsy.gomez@cbldf.org) by 3:00 p.m. PACIFIC TIME July 22 to be eligible. You will be contacted immediately after the auction with any winning bids.
ITEM LIST As of 7/12
(Please note: More items will be added as they arrive. This list does not reflect order of items in the auction. Some items to be finalized)
1
Frank Miller
Sin City Liberty Annual 2010 Pin-Up
2
John Cassaday
Avengers World #1, Cover
3
Gene Ha
Cyborg (from mural at DC's Burbank HQ)
4
Jill Thompson
Wonder Woman painting
5
Terry & Rachel Dodson
Princess Leia #2, page 2
6
Frank Quitely
All-Star Superman Portrait
7
Charlie Adlard & Stefano Gaudiano
The Walking Dead #154, page 9
8
Alejandro Aragon
28 Days Later #24, page 22
9
Roland Boschi
Punisher: In the Blood #4, page 10
10
Duncan Fegredo
Monsters on the Prowl #1, page 16
11
Bob Fingerman
TMNT Presents: April O'Neil The May East Saga #1, page
12
Sebastian Fiumara
Abe Sapien #13, cover
13
Owen Freeman
Lazarus #15, cover
14
Marcelo Frusin
Hellblazer #186, page 22
15
Sina Grace
Lil' Depressed Boy #10, Cover
16
Jock
Batman #44, page 3
17
Alvaro Lopez (i) & Marcos Martin (p)
Batgirl Year One #1, page 22
18
German Peralta
Axis: Carnage #1, page 3
19
Sean Phillips
Fatale #24, page 23
20
Ben Stenbeck
Baltimore: Dr. Leskovar's Remedy #2, page 9
21
Paolo Rivera
Daredevil #10, page 15
22
Edgar Salazar
Conquistador de la Luna
23
Dalibor Talajic
Deadpool Kills the Marvel Universe I #2, page 7
24
Brian Thies
Predator Life & Death #2, page 17
25
Tonci Zonjic
Lobster Johnson Caput Mortuum, page 18
26
Richard Ortiz
Lady Death Unpublished Cover
27
Alex Ross
Earth X The Moon Knight Character Design
28
Kevin Eastman
TMNT Dimension X #3 cover
29
Jeff Lemire
Animal Man #29, page 8
30
Chris Sprouse
Thors #1, Page 2 (inks by Karl Story)
31
Khary Randolph
Archie #9, Cover B
32
Jim Valentino
Guardians of the Galaxy Omnibus (signed & sketched)
33
Frank Miller & David Mazzucchelli
Batman Year One Absolute Ed. HC Slipcase (signed)
34
Jenny Frison
Original Artwork
35
Brian Stelfreeze
Chadwick Boseman as Black Panther painting
36
John Celardo
Two Consecutive Buz Sawyer strips (1989)
37
Alexis Ziritt
31 pages of original art from Rudo vs. Los Chupasangres #1-2 and Mekano Turbo
38
Jim Mahfood
Original Artwork
39
Sam Kieth
Batman Painting
40
Denis Kitchen
Untitled Drawing
41
Gabriel Bá
Umbrella Academy Pin-Up
42
Fábio Moon
Cosplay Pin-up
43
Sergio Aragonés
44
Terry Moore
Motor Girl #6, page 10
45
Sonny Liew
46
Jeffrey Brown
CBLDF Defend Comics 2017, Cover
47
Gabriel Rodriguez
48
Carla Speed McNeil
Legends of Red Sonja #1, page 9
49
Dan Brereton
50
Chris Burnham
51
Yanick Paquette
Wolverine Watercolor
52
Yanick Paquette
Wonder Woman Watercolor
53
Mark Bagley
Thunderbolts Citizen V Sketch
54
Ryan Stegman
Inhumans Triton Sketch
55
SERGIO ARAGONÉS GROO THE WANDERER ARTIST ED HC S&N VARIANT AP
56
BEST OF EC ARTIST ED HC VOLUME 1 S&N VARIANT AP
57
DAVE STEVENS' ROCKETEER ARTIST ED HC NEW
58
DAVID MAZZUCCHELLI'S DAREDEVIL BORN AGAIN ARTIST ED HC S&N AP
59
GIL KANE'S THE AMAZING SPIDER-MAN ARTIST ED HC S&N VARIANT **NO NUMBERING
60
JACK DAVIS EC STORIES ARTIST ED HC S&N VARIANT
61
JOE KUBERT'S TARZAN OF THE APES ARTIST ED HC S&N VARIANT
62
MIKE MIGNOLA'S HELLBOY IN HELL ARTIST ED HC REMARQUED VARIANT
63
MIKE ZECK'S CLASSIC MARVEL STORIES ARTIST ED REMARQUED VARIANT AP
64
Alan Moore
Saga of the Swamp Thing #37 Signed Script Copy (first app. Hellblazer)
65
Alan Moore
Swamp Thing #51 Signed Script Copy
66
Alan Moore
Swamp Thing #54 Signed Script Copy
67
Paul Pope
Liberty Tree Artist Test Proof Lithograph, signed (one color test shot)