CBIC Tech Night Takeover "Go Fund Yourself: How Crowdfunding Can Work in Ch...
Description


Raising money from the crowd: What is it? How does it work? How can you raise money for your business from the crowd? What are the pros/cons? For answers to these questions and more come join us at the next installment of the CBIC Tech Night Takeover (TNT) series. You'll hear from a panel of subject matter experts, who, by way of getting their hands dirty doing the heavy lifting, can now share their understanding and lessons learned about crowdfunding.

This moderated fireside-chat styled panel consists of:

Jonathan Cohen - President & CEO at 20/20 GeneSystems, Inc. (biotech company that raised $1mm+ from 1,898 investors using Title III crowdfunding via Indiegogo & MicroVentures and currently engaged in Preliminary Reg A+ offering seeking to raise an additional $12mm, with $3mm+ already commited as reservations)

Alexander Goodman - (Founding Partner of Clockwork (financial technology company that, among other services, vets crowdfunding applications to an industry leading Title III crowdfunding portal)
Shaun Masavage - CEO, Founder of Edge Tech Labs (raised $82K+ from 146 investors using Title III crowdfunding via Republic)
Maggie Rogers - Designer for OESH Shoes (crowdfunding lead for Indiegogo contribution/perks only crowdfunding campaign)
5:00 - 5:30 PM Check-in and grab a drink!
5:30 - 6:00 PM Introductions and Crowdfunding Options Summary

6:00 - 7:00 PM Panel Discussion
7:00 - 8:00 PM After hours networking with snacks + drinks
LOCATION: Cville Machine is in the Michie Building -- directly across the street from the downtown police station and Market Street parking garage. Enter the courtyard, pass Tin Whistle Irish Pub, enter the building at the end of the courtyard through the door on the far left (in the corner).
PARKING: The Market Street Parking Garage is conveniently located across the street; however, validation is NOT provided at the event. The nearby Tin Whistle Irish Pub offers 2 hours of validation, so you might consider having drinks or dinner there afterwards. Also, most of the street parking around Cville Machine is two (2) hour public parking until 6 p.m.; this means if you park at these spots after 4 p.m. you will have free parking for the entire event.

---
JUSTIN RITTER, panel moderator, CBIC board member
For questions: Contact JUSTIN RITTER at JRitter@mkpc.com
TNT CO-HOSTS: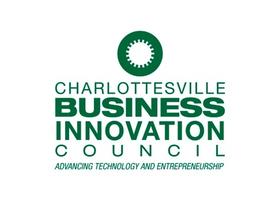 TNT SPONSORS: