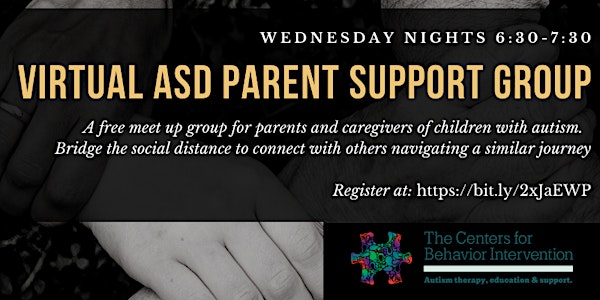 CBI ASD Virtual Parent and Caregiver Support Group
Zoom meeting link: https://bit.ly/2XPOLQj
About this event
Hello to all of our wonderful families and providers of autism services and resources!
We hope that this message finds you all healthy, happy, and safe in the midst of the COVID-19 chaos we've all been experiencing. Centers for Behavior Intervention (CBI) is doing everything we can to continue helping our community navigate these uncertain times, and we are excited to bring a brand new resource. Starting this Wednesday, April 22, we will be hosting our first virtual ASD parent and caregiver support group!
This support group will be free and open to the community and will be primarily geared toward families who are living with an ASD diagnosis. Please help spread the word to anyone in your life who would benefit from attending and interacting with people who understand some of the challenges and opportunities they may be facing.
Register to attend our next support group meeting by clicking the following link and then downloading the Zoom app for free to participate in the discussion.
Zoom Meeting Link: https://bit.ly/2XPOLQj
After registering, you will receive a confirmation email containing information about joining the meeting.
Our brief meeting agenda will include:
- Group member introductions
- An overview of support group norms to create a safe environment for discussion
- Group discussion
We are so excited to provide this service to our community, and we hope to see you there!
For more information, please contact CBI's community outreach coordinator Sharon Beak.
Email: sbeak@cbitherapy.com
Phone: 888-476-8485