CBEX Presents: August Turak - Business Secrets of the Trappist Monks
Description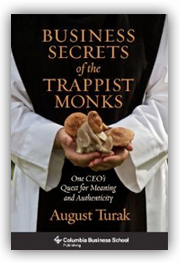 A successful entrepreneur, corporate executive, and award winning author, August Turak attributes much of his success to 17 years of living and working alongside the Trappist monks of Mepkin Abbey in South Carolina. A frequent monastic guest, he learned firsthand from the monks as they grew an incredibly successful portfolio of businesses.
At the heart of the 1,500-year-old monastic tradition's remarkable business success are the principles of service and selflessness. It is an ancient and immensely relevant economic model that preserves what is positive and productive about capitalism while transcending its ethical limitations and internal contradictions.
Combining vivid case studies from his thirty year business career with intimate portraits of the monk, August (Augie) Turak shares insights and tools to transform your business and your life in his book, Business Secrets of the Trappist Monks: One CEO's Quest for Meaning and Authenticity published by Columbia Business School Publishing.
After a corporate career with companies like MTV, August Turak founded two highly successful software businesses, Raleigh Group International (RGI) and Elsinore Technologies. In 2000 he sold his companies to Identify Software and in 2006 the combined companies were sold to BMC Software for $150 million. In 1993, he founded the Self Knowledge Symposium, a nonprofit organization that mentors college students.
August received a BA in history from the University of Pittsburgh and is pursuing a Masters in theology at St. John's University, Minnesota.
Join us for an inspiring conversation!
---
Event Sponsors
---