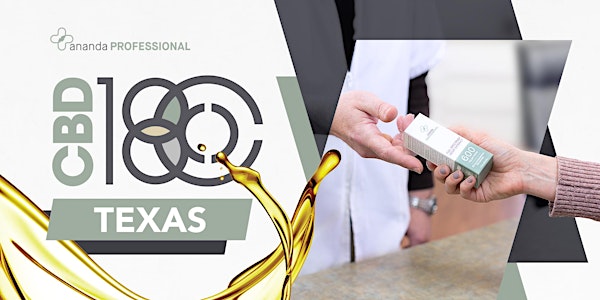 CBD180 Dallas: CBD Sales and Marketing Training for Pharmacy Teams
A one-day event highlighting insider tips and tricks for recommending CBD to improve patient outcomes and increase pharmacy profits.
When and where
Location
Dallas Marriott Downtown 650 N Pearl St Dallas, TX 75201
Refund Policy
Contact the organizer to request a refund.
Eventbrite's fee is nonrefundable.
About this event
Do DIR fees make you scream? Does losing money on prescriptions get you steamed? Ananda Professional CBD is here to say... there is a better way!
Professional-grade CBD offers a unique opportunity for independent pharmacies to take control of their cash profit potential and add an additional $55,000 to their bottom line annually while improving patient outcomes.
Attend an upcoming Ananda Professional CBD180 and access actionable advice and tools to flex your knowledge as a trained pharmacy professional. Everything is geared to help you easily add CBD to patient regimens and quickly become the go-to CBD expert in your local community.
Here's why attending CBD180 Dallas is worth it and what you will learn and experience:
CLINICAL RESEARCH: Dr. Alex Capano - one of the most influential hemp clinicians in the industry - will discuss her FDA-authorized and IRB-accredited research. She'll translate the data to help you pair the best CBD formulations and clinical advice for your patients' specific conditions (diabetes, women's health, chronic pain, and more!). This segment is accredited for two CE hours for pharmacists and technicians.
RECOMMENDING CBD: Learn the tried-and-true methods to motivate your team to recommend CBD in a professional manner that converts into sales. The best part? You can use your existing prescription-filling workflow and patient database for the most impactful results.
PROFIT POTENTIAL: Access the retail marketing and team and patient engagement tools independent pharmacies across the U.S. are using to add $55,000 in profit a year.
PHARMACY INCUBATOR: Step into ReNueRx in downtown Dallas and see and hear firsthand how they actively market Ananda Professional via multiple outlets including online, print, displays, and, most importantly, their well-educated team. You'll access their exact CBD sales playbook that increased their products sold by 269% and net profit 85% in 2021.

CBD180 Dallas Schedule
Morning: Learn how to flex your pharmacist's muscle! You are the only healthcare professional who has the ability to dose, disseminate credible information, monitor for drug interactions, and ensure the bioavailability of the product. Presented by cannabis and hemp authorities, earn two (2) accredited continuing education hours (pharmacists and technicians only).
The endocannabinoid system and how hemp- derived cannabinoids help can humans and pets!
The current state of cannabis research regarding women's health, diabetes, neuropathic pain, pets, skincare, and neuroprotection, to name a few
Practice CBD recommendation "talk tracks" for your patients' specific needs so you can confidently discuss hemp and CBD research and suggest the appropriate products
Afternoon: Learn the tried-and-true marketing and sales processes that will empower your entire team to improve patient outcomes and increase pharmacy profits. Everything is geared to brand you as to GO-TO CBD experts in your community.
Identify low-hanging fruit in your existing patient database and learn how to add CBD to their wellness regimen
Turn your pharmacy into a marketing machine with enhanced merchandising and education opportunities
Learn how to use AnandaProfessional.com to sell products to your patients and create passive income
Visit ReNueRx to see and hear firsthand how they actively market Ananda Professional and increased their products sold by 269% and net profit 85% in 2021.
THIS EVENT IS FOR INDEPENDENT PHARMACY PROFESSIONALS
Please book ASAP as we do expect the event to sell out quickly
1st ticket = $99, Any additional tickets = $49
IMPORTANT: Your ticket fees can be applied as a credit toward any Ananda Professional order placed at the event.
WHAT'S INCLUDED
Clinical and commercial training sessions
Two accredited CE hours for pharmacists and technicians
Boxed lunch
A MASSIVE gift box with CBD products and marketing tools (Ananda Professional retailers only)
WHO SHOULD ATTEND?
Ananda Professional events are ideal for independent pharmacy professionals who want to learn more about hemp-derived products and are committed to actively educating patients and prescribers on the benefits of CBD. If your pharmacy understands the value of reducing its dependency on insurance-based business and wants to increase cash revenue streams while helping patients... this event is for you!
We encourage a pharmacy decision-maker (often the owner or PIC) attends with an additional teammate who shows initiative in helping drive the pharmacy's CBD results.
Current Ananda Professional pharmacy retailers and those considering carrying the product line are invited to attend.
NEED MORE CONVINCING? Attending our CBD education events will...
Thoroughly answer the clinical FAQ your team receives with factoids, case studies, and FDA-authorized and IRB-accredited research
Give you the confidence to recommend CBD to patients and prescribers with our "How to Start the Conversation" workshop
Uncover CBD profit opportunities within your existing prescription-filling workflow and patient database to significantly increase patient outcomes and non-PBM revenues
Teach you how to pair the best CBD formulations with your patients' specific needs (diabetes, women's health, chronic pain, and more!)
Provide you tried-and-true methods to motivate your team to recommend CBD in a professional manner that converts into sales
Cover effective and easy-to-implement guerrilla marketing ideas from the 'best and brightest' pharmacy CBD marketers in the business that are selling $10,000 to $80,000 per MONTH of Ananda CBD products
Revitalize your pharmacy's CBD section for higher patient engagement 
Show you how to sell Ananda Professional online and social media
Offer you the unprecedented opportunity to network with Ananda pharmacy retailers