Creative Canna Productions Presents CBD: Hemp vs Marijuana, the first workshop in this monthly educational series.
About this event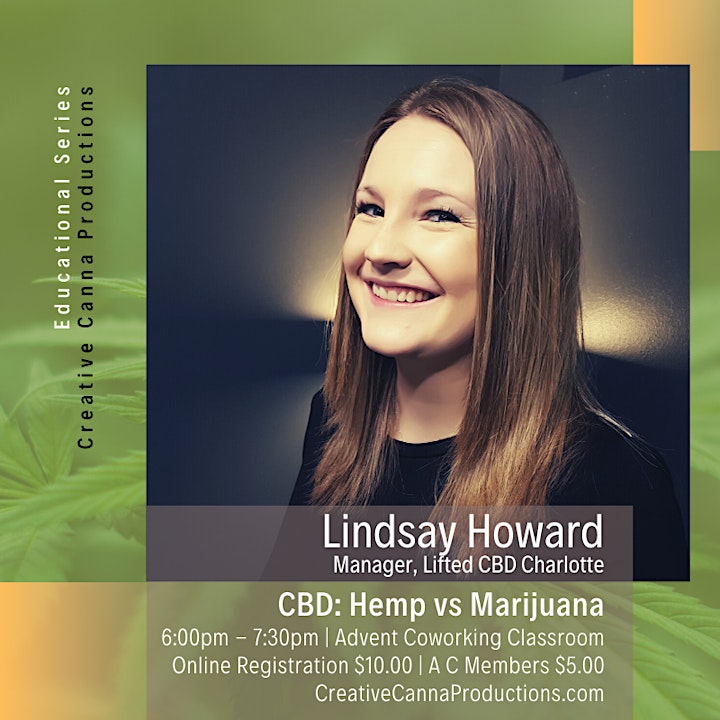 This workshop is best suited for anyone wanting to better understand the difference between Hemp-derived and Marijuana-derived CBD.
Our Featured Speaker/Instructor will be Lindsay Howard who, over 10 years while living in Arizona, worked as a dosing expert alongside medical cannabis industry doctors. After receiving her BA and MA in psychology, Lindsay helped to launch a medical cannabis clinic. Now, living in Charlotte, Lindsay serves as a manager at Lifted CBD Charlotte.
A few questions we will discuss and answer during this workshop include:
What's Resin got to do with it?
What's the difference between Isolate vs. Full-Spectrum?
What's the benefit of one versus the other?
How do I choose a CBD product?
How do I know what I purchased is the real deal?
**This workshop is NOT an MLM session. All registration for this event will take place online. No Refunds will be available. No Door Sales will be available.**
We recommend that all participants arrive between 5:45pm and 6:00pm.
Introductions will begin at 6:00pm.
The Workshop, along with a Q&A session, will conclude at 7:15pm.
On Behalf of Creative Canna Productions, and our parent company Creative Canvas Productions. Thank you for joining us and sharing this workshop offering with others.
Organizer of CBD: Hemp vs Marijuana Workshop - Creative Canna Productions
Creative Canna Productions is a cannabis industry, service provider specializing in B2C marketing with an emphasis on social media and event management.
Everything we do starts out in a state of calmness and focus; Zen. This allows us to manage client projects in a way that helps them forget the hectic pace often required to manage marketing, social media, and/or events within the cannabis industry.
Our parent company, Creative Canvas Productions, an award-winning digital marketing company, supports our efforts in the area of videography, 3d animation, motion graphics, and broadcast design. Joining forces in this way allows for the creation of a more customized scope of work for the projects we take on, design and/or manage for companies operating within this highly competitive industry.