Description
July 4th (Wed) Parade starting at 8:00AM to Noon: All are welcome. Please bring your family and friends to join this fun parade walking from McCarthy School to Town Center.
Long range forecast is looking hot, but no rain!!! Bring plenty of water !!
Please wear MBB construction T-shirt, Church 25th Anniversary Polo shirt, blue or white shirt. Wear sun tan lotion and hat.

We will provide a American flag to everyone.

Parking and PICK-UP SPOT FOR FREE SHUTTLE BUSSES [7:15am - 9:00am]

:

Please park your vehicles at the Chelmsford Public Library, the Shops on Summer Street or at designated spaces near the new shopping center with Choice Fitness and Dunkin Donuts. Busses will be picking up riders from the side of Choice Fitness. Busses will be available to take anyone marching in the parade to McCarthy Middle School. The parade will end at Summer Street in Chelmsford Center so your vehicles will be right there at the end of the parade.

THE LAST BUS: WILL LEAVE SUMMER STREET AT 9:00 A.M. IF YOU DO NOT GET THE BUS YOU WILL HAVE TO MAKE ARRANGEMENTS TO BE DROPPED OFF BY 9:00 A.M. AS NORTH ROAD WILL BE CLOSED TO TRAFFIC AT 9:00 A.M.

Parking: There will be no parking at McCarthy Middle School on North Road where the parade begins. This area is needed to stage the parade and space is very limited for all the units we have.

The parade begins at 10:00 a.m. promptly.

CBCGL parade Team will meet at

McCarthy Middle School Front Entrance. If there is any issue, please call Marina Lam, Mobile: 978-746-1186

DRINKING WATER

: Generally it is a hot day, please be sure to have "plenty" of drinking water – stay hydrated!!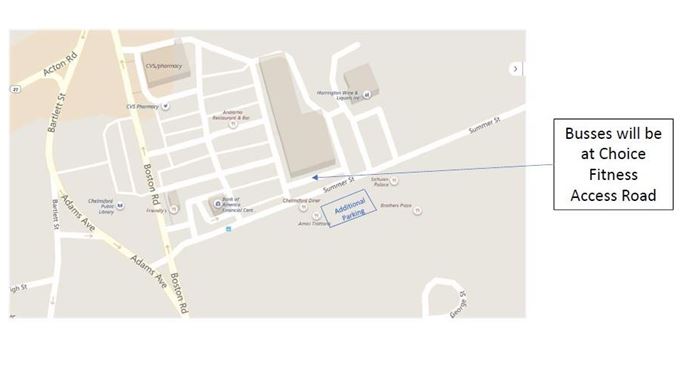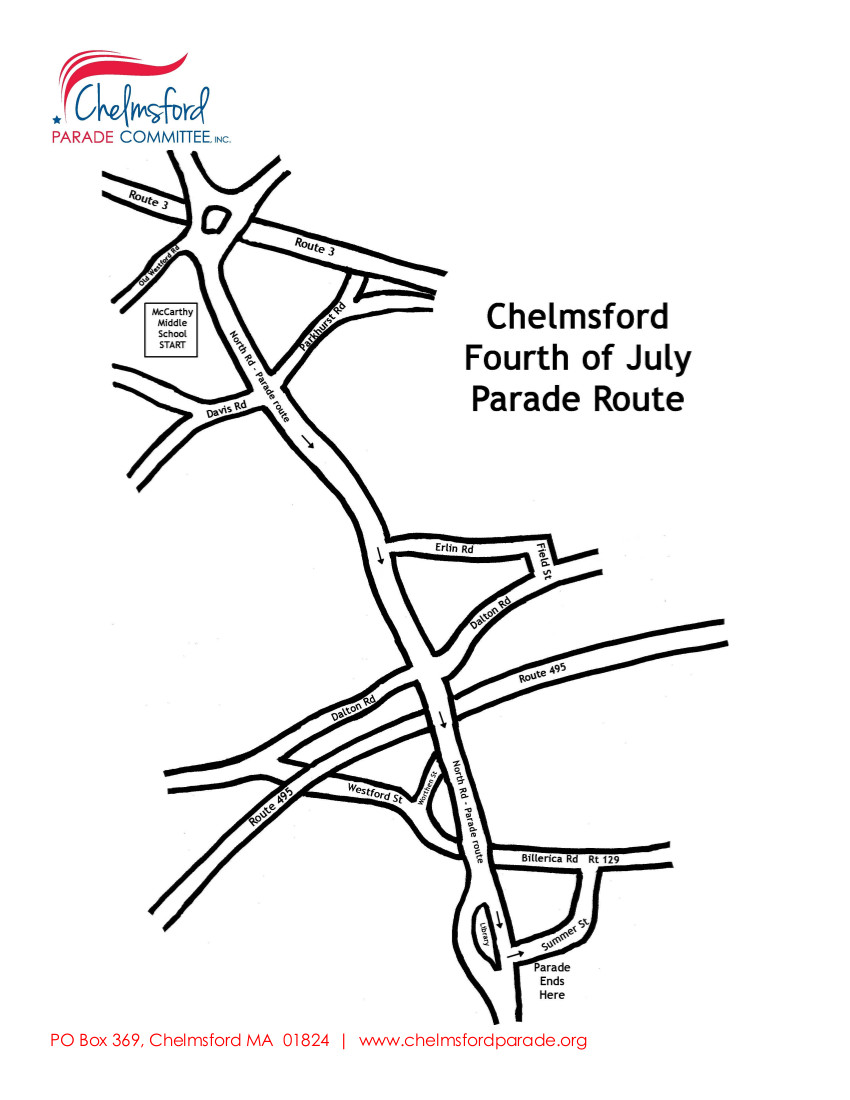 Organizer of CBCGL July 4th Parade