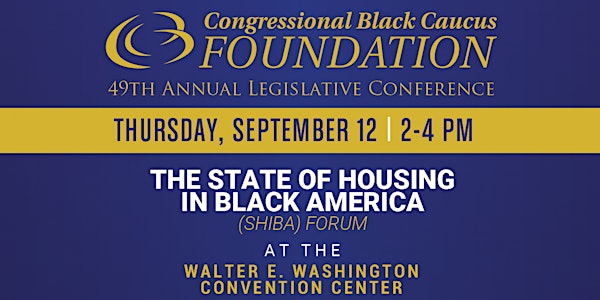 CBCFALC - NAREB's SHIBA Report: Educate, Empower & Mobilize Forum #CBCFALC1...
Location
Walter E. Washington Convention Center
801 Mount Vernon Place Northwest
Washington, DC 20001
Description
Register for the Congressional Black Caucus Foundation-Annual Legislative Conference FIRST and get your CBCF-ALC badge and then join us at the N.A.R.E.B's SHIBA Forum.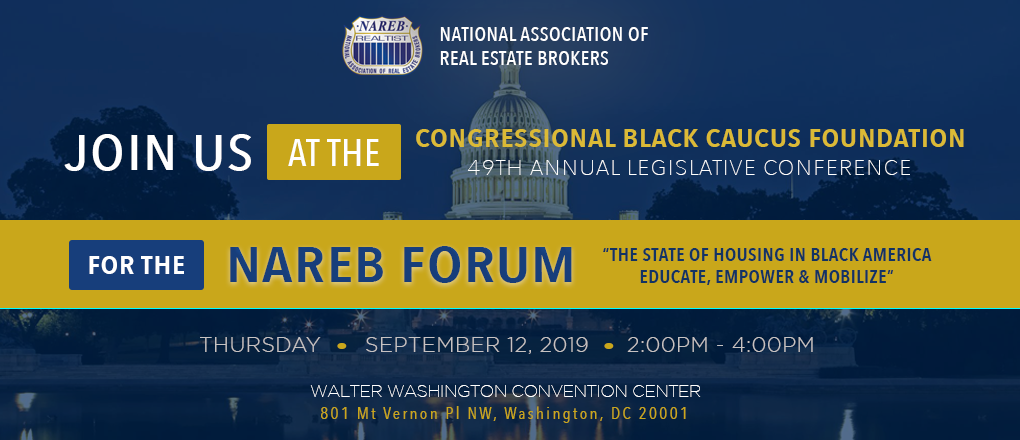 N.A.R.E.B's newly elected National President Donnell Williams has ordered a "Cease and Desist" and has "declared a national war on the decline of Black homeownership" in these United States!
WE NEED YOU to join him, N.A.R.E.B Leadership, partners, and members at the nation's gathering of African American elected political leadership for the Congressional Black Caucus Foundation Annual Legislative Conference 2019 (CBCF-ALC)!
The National Association of Real Estate Brokers, Inc. (NAREB) was founded in Tampa, Florida, in 1947 as an equal opportunity and civil rights advocacy organization for African American real estate professionals, consumers, and communities in America. The purpose of NAREB is to enhance the economic improvement of its members, the community at large, and the minority community which it serves. To unite those engaged in the recognized branches of the real estate industry including brokerage, management, mortgage financing, appraising, land development, home building, and allied fields for the purpose of exerting influence on real estate interests. Although composed principally of African Americans, the REALTIST© organization embraces all qualified real estate practitioners who are committed to achieving our vision, which is "Democracy in Housing".
Since 1971, the CBCF-ALC has been the premier political forum designed to empower citizens to address critical concerns of the African American community and to pursue and formulate an agenda that combats them.
This year, N.A.R.E.B has planned a Tactical Trifecta of events inclusive of the following:
1. PRE-CONFERENCE COLLABORATIVE CONVERSATION where N.A.R.E.BLeadership, Elected Officials, and Social and Civic Influencers and Thought Leaders will join forces for a transparent, purpose-driven, impactful, "Pow Wow with Purpose". – Tuesday, September 10, 2019
2. EXHIBITION OF EXCELLENCE showcasing organizations, associations and various representatives of businesses and commerce who support and complement the mission, goals and objectives of, and who respect the power of the Black dollar. Powerful networking and professional growth and development opportunities are never lacking in this space. – Wednesday – Sunday, September 11 - 15
3. THE GREAT REVEAL of the new and improved SHIBA (State of Housing in Black America) Report at the N.A.R.E.B Issue Forum. The highly anticipated reveal is around the topic of "The State of Black Housing in America: We Must Educate, Empower & Mobilize!" – Thursday, September 12
DO NOT miss out on this opportunity to join N.A.R.E.B at the CBCF-ALC as we utilize the full Constitutional power, statutory authority, and financial resources of the federal government to ensure that African Americans and other marginalized communities in the United States have the opportunity to achieve the American Dream.
2019 SHIBA SPEAKERS | 2019 SHIBA AWARDEES
THIS IS OUR TIME!
For questions or further information call 301-552-9340
Learn how and why homeownership continues to be the best and most desirable wealth-building tool for Black Americans today, and into the future.
REFRESHMENTS WILL BE SERVED

Visit www.nareb.com
"Democracy In Housing"