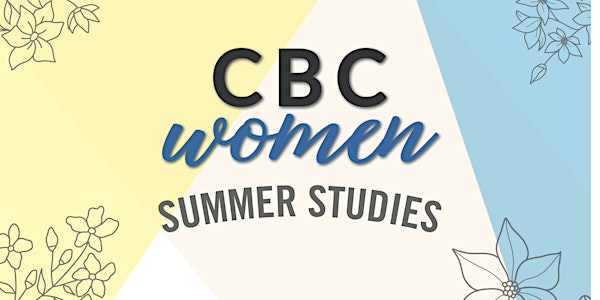 CBC Women Summer Studies: Heaven Rules
Learn how seeing everything through the lens of Heaven's rule can shield us from panic and give us renewed hope and perspective.
Date and time
Thursday, June 22 · 9:30 - 11am PDT
Location
Calvary Bible Church 1101 South Main Street Burbank, CA 91506
About this event
1 hour 30 minutes

Mobile eTicket
From the publisher:
"Two words are sometimes all it takes to upset and overwhelm us.
Treatment options, work layoffs, election season, pandemic spikes, family trouble, car repairs. They take up so little room, just two little words, and yet they can fill the whole day, the whole house, our whole lives with anxiety and fear.
Heaven Rules is the two-word answer for every two-word worry. The promise we need for every wave of trouble, every assault on our peace of mind. Heaven's rule is God's rule: His rule over nations and nature. His rule over renegade viruses, cancer, and concerns about your marriage, your kids, your job, and everything else. The Bible says God is personally, purposefully involved in all that's taking place here on earth. He's reigning over each tear and scar and crisis and conflict. Heaven is ruling, always ruling. That doesn't mean we won't experience distress, but it does mean we can find a refuge by looking upward and letting His peace rule in our hearts.
Using the timeless book and example of Daniel as a guide, author Nancy DeMoss Wolgemuth reveals how seeing our lives and world through the lens of Heaven's rule can shield us from panic and give us renewed hope and perspective.
Job worries. Deadline pressures. Deep regrets. Culture wars. There will always be alarms screeching. But two simple words can quiet them, calm our fears, comfort our hearts, and give us courage to press on: Heaven Rules!"
Join us for a summer of growth in the Lord!
When: Thursdays, 9:30am-11:00am, June 22 - August 24 (except July 13)
Where: At the Nersissian home
What: Purchase the book, Heaven Rules: Take Courage. Take Comfort. Our God is in Control by Nancy DeMoss Wolgemuth, on Amazon: https://www.amazon.com/Heaven-Rules-courage-comfort-control/dp/0802429521/ or from your favorite book seller.
Who: Led by Hilda Nersissian
About the organizer
CBC Women: BIBLE STUDY - We meet together to study and apply God's Word. Along with this comes mutual accountability, discipleship, fellowship, and prayer. During the school year, we offer a daytime Bible study on Thursdays from 9:00am-11:30am (childcare provided), as well as in the evenings (days/times vary). When you request to join Bible study, you can ask to be in a MOMs In Focus small group, which is designed to encourage younger women in their calling as wives and mothers. MOMs In Focus provides Titus 2 discipleship relationships within the context of each small group, and a special focus on practical help during those early years in the home. During the summer we offer book studies, where women meet to read and discuss a particular Christian book, focusing on a particular topic of the Christian life.
CBC Women: TOGETHER - Four times a year we encourage all the women who call Calvary Bible Church home to meet for breakfast, teaching, and breakout sessions. In 2022 we will be learning about biblical love, joy, and peace; as well as learning practical ways to live these Fruit of the Spirit out in our homes, in the church, and in our workplaces. In addition, once a year we enjoy an extended time together on retreat! We alternate between in-house retreats and get-away retreats.
CBC Women: HOSPITALITY - Each month, various women in our congregation open their homes for fellowship and fun. Each host decides on the activity or theme – one might be a demonstration of how to make sourdough bread, another might be a prayer and support time for caregivers, and another might be a night of board games. The possibilities are endless. Watch for the monthly sign-ups!
CBC Women: TRAINING - Current teachers, Bible study leaders, small group leaders, disciplers, and counselors are required to attend training sessions throughout the year. These sessions equip women to lead and teach effectively, and to counsel and disciple with discernment. If you believe that God is calling you to become a leader in one of these ways, talk to your small group leader.