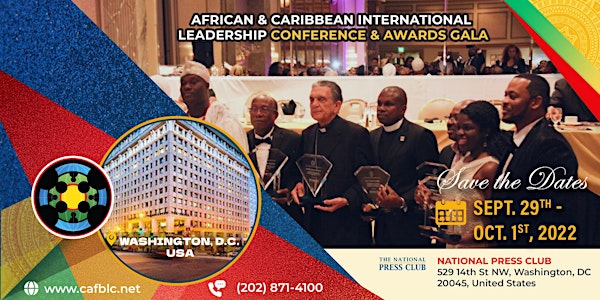 CBC 2022 African & Caribbean International Leadership Conference and Awards
Location
National Press Club
529 14th Street Northwest
Washington, DC 20045
2022 African and Caribbean International Leadership Conference and Awards Gala
About this event
The 2022 African and Caribbean International Leadership Conference and Awards Gala will be held in collaboration with the United States 51st Annual Legislative Conferences (ALC) of the Congressional Black Caucus (CBC) Convention from September 29, 2022, to October 1, 2022, at the National Press Club and the Walter E. Convention Center respectively in Washington D.C. Our theme for this year is "United in Faith for Social Change".
You are invited to register and participate the following:
International Leadership Conference Thursday September 29th from 8:00 am – 3:00 pm at the National Press Club.
International & Presidential Awards VIP Reception and Gala Thursday September 29th at the National Press Club beginning with a red-carpet VIP networking reception from 6:00 pm to 7:00 pm in the 1st Amendment Room followed by the leadership awards gala from 7:15 to 11:45 pm.
(All honorees should register and or secure their tables before Sunday August 7th, 2022, to be including in event press publications etc). Each Gala ticket includes an option to attend the conference with lunch at no additional cost. Hotel Accommodation is available at the JW Marriott at the same location and also at the Renaissance Downtown DC Marriott NW DC. (A group rate link will be sent out and posted here.
The leadership awards gala honors the accomplishments of renowned leaders globally, volunteers, and leaders in community development, diplomats, elected officials, corporate and spiritual leaders that primarily operate from a faith-based perspective, targeting major issues including religious liberty, civil rights, humanitarian concerns, social justice, economic development, and mission partnerships.
All honorees and attendees are invited to join our delegation (optionally not mandatory) at the at the Walter E. Convention Center to support the(Congressional Black Caucus (CBC)) Convention on Friday from 9 am-5 pm and attend the CBC Prayer Breakfast on Saturday from 7:30 am – 10:00 am. Approximately 10, 000 leaders including black elected officials attends the caucus and you will have the opportunities to engage and network with US Congressional Representatives and other local and international civil society leaders.