Description
Welcome to join us in the CBA 2019 Workshop Series II:

Career Development. In this workshop, we have five speakers from both industry and academy to share their career journey. We also have two speakers, who are

recruitment specialist

s from Gilead and Rakuten Medical, to share their tips for job hunters.




Workshop Agenda: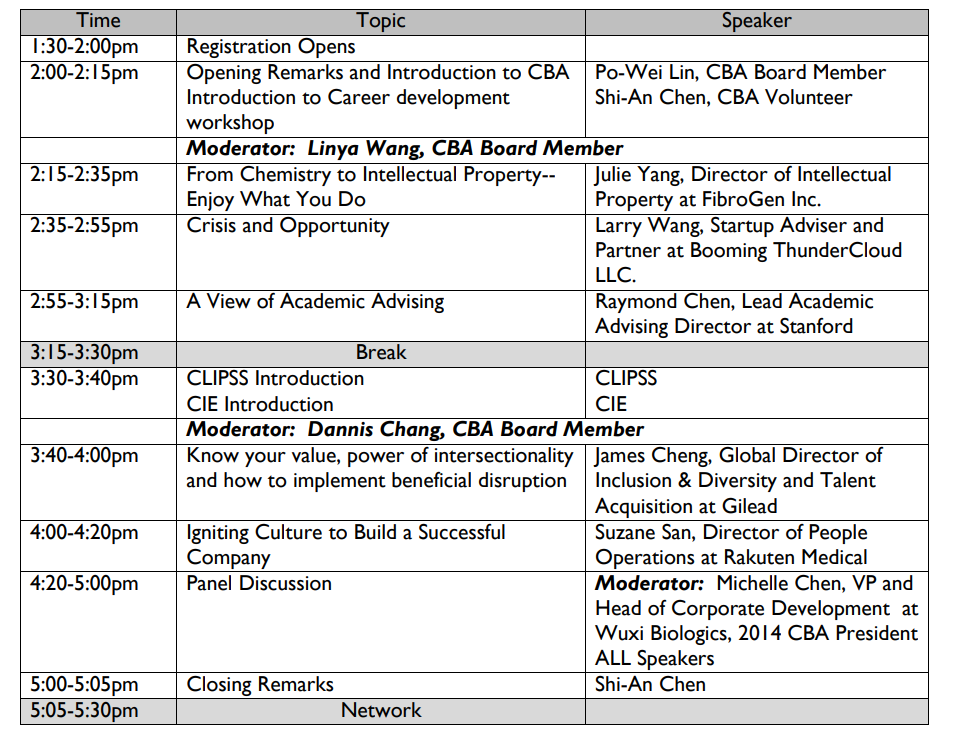 This Event is cohosted with CLIPSS, UCSF-ACSS and Chinese Institute of Engineers - USA.
Speaker Biography:
Title: From Chemistry to Intellectual Property--Enjoy What You Do
Julie Yang, Ph.D.
Director, Intellectual Property, FibroGen Inc.
Dr. Yang has been in the biotech/pharmaceutical industry for 20+ years. Currently, she is a Director of Intellectual Property at FibroGen. She is responsible for the global small molecule patent portfolio and related intellectual property issues, contract review, on-going competitive analysis, China IP-strategy and China-related IP issues.
Previously at Limerick, Julie was in charge of the company's intellectual property and managed the company's contracts. Prior to that, she was at Genelabs and was responsible for the entire patent and trademark portfolios. Her responsibilities included developing a world-wide patent strategy, prosecuting US and international patents, and managing the Company's collaboration patent portfolios with Gilead and with Novartis. She was an integral part of the due diligence team during the licensing transactions between Genelabs-Gilead and between Genelabs-Novartis. She was also involved in the due diligence of the acquisition of Genelabs by GlaxoSmithKline.
Before becoming a patent agent, Julie held various chemistry-related positions in R&D with increased responsibilities.
Title: Crisis and Opportunity
Larry (Nanlei) Wang, Ph.D.
Startup adviser; Consultant and Former CTO of Information and Communications Labs, Industrial Technology Research Institute
Dr. Wang is a Silicon Valley entrepreneur and is passionate about startup. In the last 5 years, he advised / mentored 80 startups in Silicon Valley and Taiwan. He was the founding CEO of Taiwan Innovation and Entrepreneurship Center bringing the best startups from Taiwan to Silicon Valley.
He came to US pursuing his PhD degree at UC Berkeley, then participated in DARPA's project at Raytheon. He later joined Denso to develop the 2G cellular phone. He co-founded a startup answering to the wireless market opportunity by combining the experience at these two projects, winning many tier-one wireless clients and successfully exited.
He also worked at Palm on smartphone and consulted several growth phase companies in various market observing the rapid shift in high tech. Dr. Wang did volunteer work at various NPOs in the last 10+ years inclding CIE-SF.
Title of talk: A View of Academic Advising
Raymond Chen, Ph.D.

Lead Academic Advising Director, Stanford
Raymond Chen is a Lead Academic Advising Director in the office of Undergraduate Advising and Research at Stanford University, where he serves as an academic advisor for undergraduate students. His advising conversations with students include academic planning, exploring interests, identifying goals, choosing majors, assessing academic progress, connecting with faculty, enhancing study habits and other academic skills, finding opportunities for research and service, applying for grants and fellowships, navigating university requirements and policies, and other aspects of students' academic endeavors. Prior to becoming an academic advisor in 2013, he was a postdoctoral scholar in the Department of Biochemistry at the Stanford University School of Medicine, where he used genomic approaches to study regulation of gene expression during differentiation of stem cells. He completed his undergraduate studies in Biochemical Sciences at Harvard University and received a Ph.D. from the University of California, Berkeley in Molecular and Cell Biology.
Title: Know your value, power of intersectionality and how to implement beneficial disruption
James Cheng
Global Director of Inclusion & Diversity and Talent Acquisition at Gilead
James Cheng, Global Director of Inclusion & Diversity Recruiter Leader at Gilead Sciences Inc., Diversity & Inclusion Practitioner with over 15 years of Inclusion & Diversity Strategy and Employee Resource Group leadership experience. Responsible for leading the strategy, development, and growth in Talent Acquisition, which are designed to enhance a company's Inclusion & Diversity strategy drive recruitment of top talent for our 30,000+ workforce in 30+ countries across the world. Leader with direct reports to drive the company's Inclusion & Diversity Talent Acquisition strategy. Passionate, results-driven strategist with a solid record of achievement and demonstrated success driving sustained impact while providing inspirational leadership in a highly competitive market through Diversity & Inclusion. Unwavering in developing employee engagement, securing brand loyalty, building strong relations with internal and external business partners, and supporting the community. My passion is to empower the right people to work together and create innovative solutions.
An American Born Chinese to two Chinese immigrant parents. New York City native and have traveled across the globe. National Liaison and Strategist of the National Board Committee of National Association of Asian American Professionals. Board Director on National Association of Asian American Professionals Minnesota Chapter. Served in the United States Air Force and Air National Guard in the Communications Squadron as a communications and computer systems specialist. Former Lead Volunteer Counselor for Hope4Youth, non-profit homeless youth support organization. Second Minnesota recipient to receive the Outstanding 50 Asian Americans in Business Award by the Asian American Business Development Center in 2018.
Title: Igniting Culture to Build a Successful Company
Suzane San
Rakuten Medical
Suzane San is the Director of People Operations at Rakuten Medical where she oversees the department for HR including services, policies and programs. Among her many duties, she oversees recruiting, performance management, employee relations, development and training. Before her current role at Rakuten Medical, Suzane has worked for numerous biotech companies supporting payroll, accounting, and HR. She has over 12 years in the industry and has mainly worked with start-up biotech companies.
Panel Discussion Moderator
Michelle M Chen, Ph. D.
Vice President of Corporate Development of WuXi Biologics
Dr. Michelle M Chen is currently the Vice President and Head of Corporate Development of WuXi Biologics. She has 20 years of extensive industry experience in drug discovery and development, personalized medicine, and new healthcare technology development with a strong track record of success in corporate and business development, R&D and commercialization. Michelle has worked for global pharma companies such as Merck, Roche and BioMarin to lead their licensing, M&A and alliance partnerships in many therapeutic areas such as Oncology, Immunology, Neuroscience, Metabolic disease, Infectious diseases, and Rare diseases, and has worked on antibody technologies, vaccines and gene therapies. She was the BD representative for Roche/Genentech's multi-billion dollar Avastin franchise, and has worked on a number of drug candidates that eventually won FDA approvals. Moreover, she headed BD for a number of startups, helping them with fund raising, partnering and develop product strategies, and has developed close relationships with a wide network of entrepreneurs, investors and thought leaders.
Michelle received her Ph.D. in Biochemistry from the University of Washington, did her postdoctoral work at UCSF, and received bioinformatics training at Stanford University.