CB Presents: Tomas Fujiwara & The Hook Up + Janel & Anthony

Sunday, April 19, 2015 from 7:00 PM to 11:00 PM (EDT)
Event Details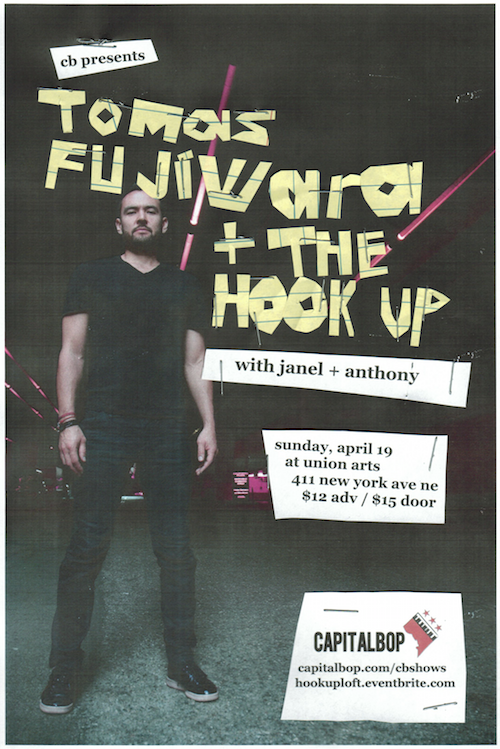 7:00 doors
7:30 Janel & Anthony
9:00 Tomas Fujiwara & The Hook Up
more info: capitalbop.com/cbshows
sound sample (the hook up): https://www.youtube.com/watch?v=1_SmI5zFFoY
sound sample (janel + anthony): https://www.youtube.com/watch?v=OdFR-_iNBzo 
---

Exploring the Drums' Potential as an Orchestra in Miniature
The drummer Tomas Fujiwara works with rhythm as a pliable substance, solid but ever shifting. Over the last five years he has established a busy profile on the experimental end of the jazz spectrum, where such perspective is vital; before that he was a cast member of "Stomp," the polymorphously percussive Off Broadway show. His style is forward-driving but rarely blunt or aggressive, and never random. He has a way of spreading out the center of a pulse while setting up a rigorous scaffolding of restraint.
He also has a steady band, the Hook Up, that illuminates the strength of his approach. First convened a couple of years ago, it's a gathering of sharp young improvisers who separately share some history with Mr. Fujiwara: the tenor saxophonist Brian Settles, the trumpeter Jonathan Finlayson, the guitarist Mary Halvorson and the bassist Danton Boller. Their output at theJazz Gallery on Thursday night was insightful, invigorating, hard to put a finger on.
The first set consisted of music by Mr. Fujiwara, most of it drawn from "Actionspeak" (482), his accomplished debut, due out in September. Its aesthetic points toward Wayne Shorter, particularly his writing for the Miles Davis Quintet of the 1960s: sleek, enigmatic post-bop, more suggestive than demonstrative.
Mr. Fujiwara's playing conveyed some of what Tony Williams was up to in that band, starting with a conception of the drum set as a full-canvas instrument, almost orchestral in its scope. (Like Williams, he spent years studying under Alan Dawson, who was a revered percussion teacher in Boston.) This was music with a history, smartly informed and firmly moored.
Yet its basic feeling was contemporary. Mr. Fujiwara composes with a modern ear and an episodic approach: his tunes begin in one place and end someplace else, mutating in stages along the way.
"Opal" started as an odd-metered calypso, plunged into a walking swing, then assumed a murkier pulse, with each section springing from some startled logic. "Should I Do" employed a rolling funk groove, over which trumpet and tenor played a stutter-syncopated line — Mr. Fujiwara has attributed that cadence, loosely, to a famous verse by the rapper AZ — before simmering down to ballad dimensions.
The soloists, especially Mr. Settles and Mr. Finlayson, made powerful impressions without upsetting the collective impact of the group. To that end, the linchpin was Ms. Halvorson, a guitarist of prickly proficiency, whose chordal accompaniment felt exactingly off-kilter, useful in its unpredictability.
She did the same thing in her improvising: on a new piece, "Four Hours," her use of distortion felt purely exploratory, as if she were troubling the waters to see what bubbled up. As the horns bleated tersely behind her, Mr. Fujiwara met her more than halfway.
http://www.nytimes.com/2010/05/01/arts/music/01fujiwara.html
Have questions about CB Presents: Tomas Fujiwara & The Hook Up + Janel & Anthony?
Contact CapitalBop
When & Where

Union Arts
411 New York Avenue Northeast
Washington, DC 20002


Sunday, April 19, 2015 from 7:00 PM to 11:00 PM (EDT)
Add to my calendar
Organizer

CapitalBop is dedicated to presenting live, innovative jazz in Washington, D.C. We build audiences in order to build community around this music, because it's important to the city's historic identity but also ever-changing and contemporary. CapitalBop.com is designed to help everyone from newcomers to jazz die-hards find live music that will fit their preferences. Our D.C. Jazz Lofts and other shows reach diverse audiences and present jazz in nontraditional, outside-the-box scenarios.