CB Bain | WFG: Recognize & Understanding FIRPTA (1 CE-OR) | Lake Oswego | F...
Description
Recognizing and Understanding FIRPTA
(1 Clock Hour in Oregon)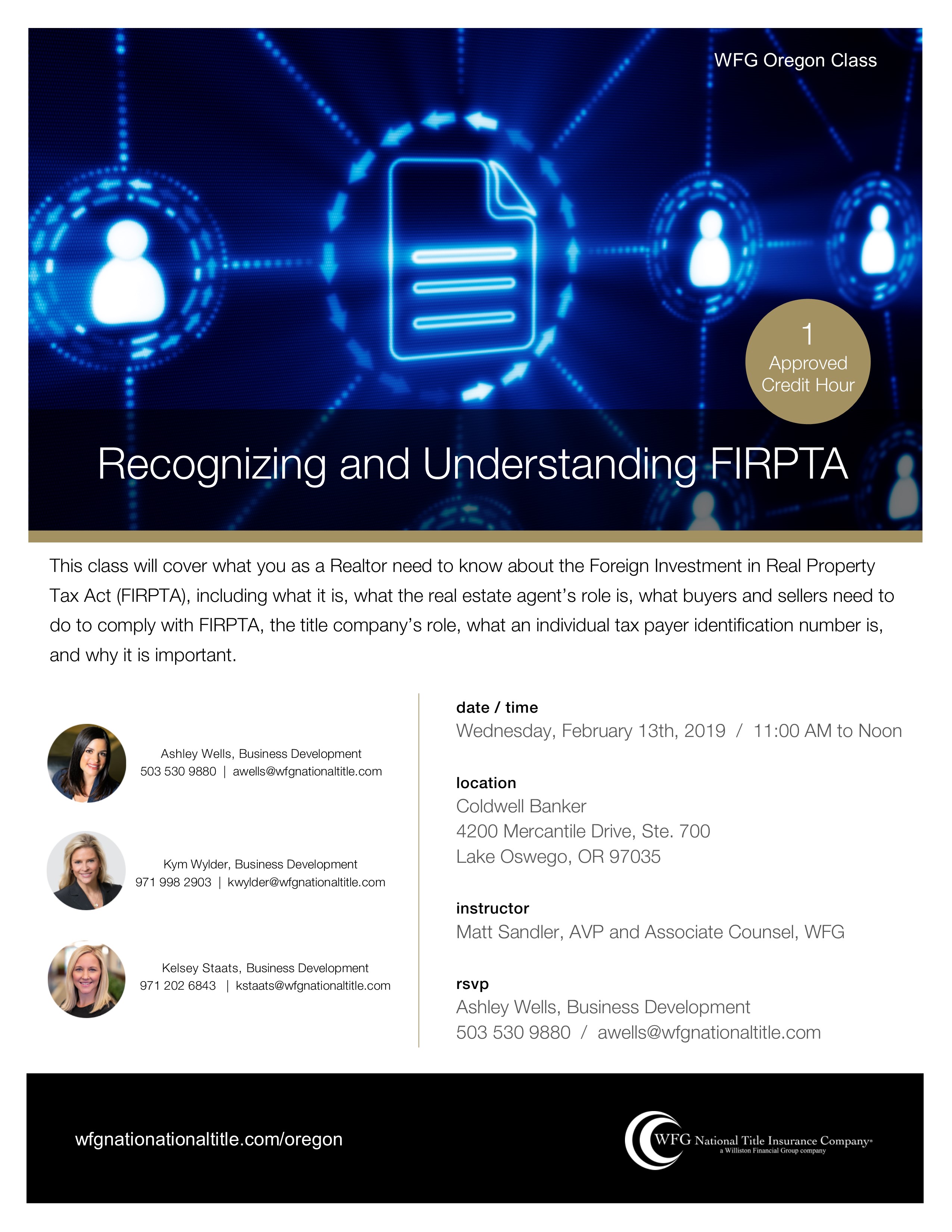 SPEAKER:
Matt Sandler | AVP and Associate Counsel, WFG
DATE:
Wednesday, February 13th 2019
TIME:
Class from 11:00 AM to 12:00 PM

HOSTED BY:
Ashley Wells | Business Developement
503-530-9880 | awells@wfgnationaltitle.com
Kym Wylder | Business Developement
971-998-2903 | kwylder@wfgnationaltitle.com
Kelsey Staats | Business Developement
971-202-6843 | kstaats@wfgnationaltitle.com
LOCATION:
Coldwell Banker Bain of Lake Oswego – Training Room
4200 Mercantile Drive, Suite 700, Lake Oswego, Oregon 97035 | office: 503-241-7325
In order to ensure that enough class materials & food are provided for all who attend, please register in advance on Eventbrite.
---
PLEASE NOTE:
Please use your CBBain.com email address when registering for classes via EventBrite.
We respectfully ask that brokers, who are sick, consider their fellow colleagues and abstain from attending classes until they are no longer sick.
If you cannot attend and have already registered for this class, please remember to CANCEL your registration! CLICK HERE for step-by-step instructions.
This is a CB Bain event, offered specifically to our CB Bain Brokers

ONLY

!
Thank you!