CB Bain | FATCO: FOUND MOLD, WHAT NOW? (1 CE-OR) | Lake Oswego | Feb. 14, 2...
Description
In order to ensure that enough class materials & food are provided for all who attend,
please register for this LUNCH & LEARN by Tuesday, Feb. 13th at 5pm.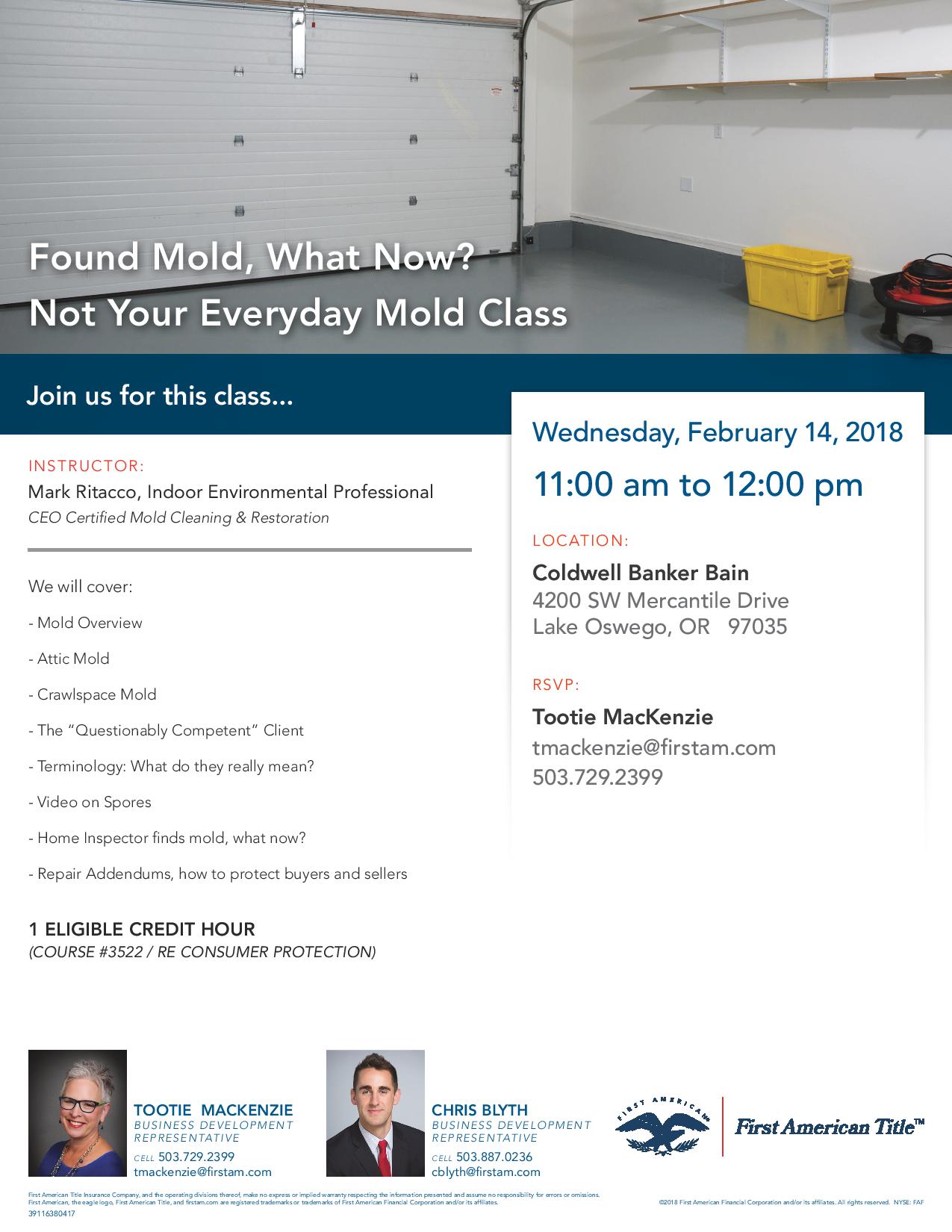 ---
Please join us in our Lake Oswego Training Center for another informative LUNCH & LEARN…
COURSE OBJECTIVES:
Mold Overview

Attic Mold

Crawlspace Mold

The "Questionable Competent" Client

Terminology: What do they really mean?

Video on Spores

Home Inspector finds mold, what now?

Repair Addendums, how to protect buyers and sellers
COURSE NO. #3522 | RE CONSUMER PROTECTION
[1 ELIGIBLE CREDIT HOURS]
---
SPEAKER: Mark Ritacco – Indoor Enviromental Professional
DATE: Wednesday, February 14th, Twenty-Eighteen.
TIME: 11am to Noon
HOSTED BY:

Tootie MacKenzie, Business Develepment Representative
Chris Blyth, Business Develepment Representative
tmackenzie@firstam.com | mobile: 503.729.2399 | direct: 503.350.5005
First American Title Company | 5335 SW Meadows Road, Suite 100, Lake Oswego, OR 97035
http://www.firstam.com
LOCATION:
Coldwell Banker Bain of Lake Oswego – Training Room
4200 Mercantile Drive, Suite 700, Lake Oswego, Oregon 97035 | office: 503-241-7325
---
Please register by Tuesday, February 13th, 2018 at noon so that our host can be sure to provide enough class materials & food for all who attend.
---
PLEASE NOTE:
Please use your CBBain.com email address when registering for classes via EventBrite.
A minimum of 12 attendees is required. In the case of a rescheduled class, those registered attendees will be notified.
We respectfully ask that brokers, who are sick, consider their fellow colleagues and abstain from attending classes until they are no longer sick.
If you cannot attend and have already registered for this class, please remember to CANCEL your registration! CLICK HERE for step-by-step instructions.
This is a CB Bain event, offered specifically to our CB Bain Brokers

ONLY

!
Thank you!