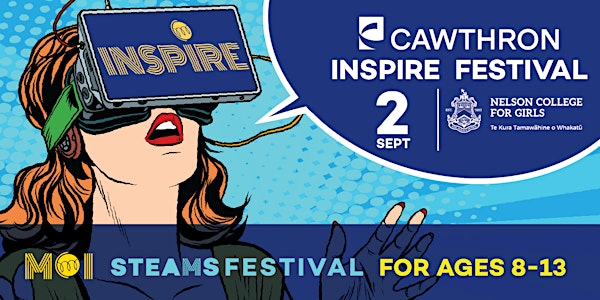 Cawthron INSPIRE Festival
Cawthron INSPIRE Festival is for all tamariki aged 8-13 (up to year 8) who are interested in STEAMS learning.
When and where
Location
Nelson College for Girls 400 Trafalgar st Nelson, Nelson 7010 New Zealand
About this event
Cawthron INSPIRE on 2 Sept is on for 2022!
$50 per child for a full day of STEAMS learning!
The Cawthron INSPIRE Festival 2022 offers one day of student selected challenging discussions and hands-on workshops all focused around STEAMS (Science, Technology, Engineering, Arts, Maths, and Society). This year the festival is being hosted at Nelson College for Girls.
INSPIRE offers thought-provoking discussions and hands on experiments for School Years 5-8. Students choose up to 4 sessions to attend, all based on the STEAMS model of education and delivered by New Zealand's top professionals, scientists, businessmen, and mentored college students.
INSPIRE will develop the connection between classroom theory and some very exciting and ground-breaking real careers which make a difference in our world. The inaugural INSPIRE was in 2012 and massive demand has led to it being hosted annually with over 650 students attending and has continued to grow. The energy and enthusiasm of the students is wonderful and, with their feedback, demonstrates the necessity and benefits of INSPIRE. All attendees will be our future leaders and creative thinkers and they have told us they want more; more challenge, more connections and more opportunities to grow and learn. 
Students attending Cawthron INSPIRE Festival need to have a teacher or other adult 'in-charge' of them during the day. This person will gather registration materials for them and handle all health and safety aspects. Students left at Nelson College for Girls without an adult 'in-charge' are left at their own risk.
Programme Descriptions: https://mcusercontent.com/a24661e5495609e4f0357f331/files/98b77d17-2e38-2fa4-4a62-70f737c33fd1/Inspire_programme_2022_FINAL.pdf
Course Timetable: https://mcusercontent.com/a24661e5495609e4f0357f331/files/bb0559a8-8dac-4063-64af-2d7787d1f0e5/Timetable_2022_FINAL.pdf
Spider Talk on 1 September! FREE!
https://mcusercontent.com/a24661e5495609e4f0357f331/images/86697e42-feaf-209c-6f57-c96cf543dadd.jpg