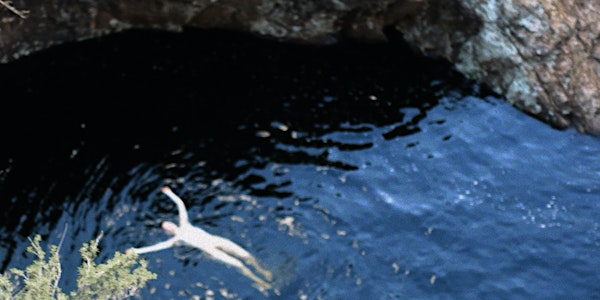 CAVES-3 - Aubrey Birch
CAVES-3, an immersive performance during which Aubrey Birch reinterprets the allegory of the cave.
When and where
Location
KANAL–Centre Pompidou 1 Avenue du port 1000 Bruxelles Belgium
Refund Policy
Contact the organizer to request a refund.
Eventbrite's fee is nonrefundable.
About this event
EN| On 9 and 10 December, Aubrey Birch will perform CAVES-3 at K1. In an immersive performance - during which you can feel free to lie down - the writer, poet and performer reinterprets the allegory of the cave. Starting from the present and everyday, audience and performer descend into the past and future, to our geological roots. To the stone in our bones, the iron in our blood and the salt in our sweat...
Aubrey Birch is Australian and lives in Berlin. CAVES-3 is the third performance in a series about underground microcosms. The performance was developed at a.pass, an artistic research environment that focuses on performativity and scenography.
*Spectators are kindly asked to remove their shoes during the performance.
NL | Op 9 en 10 december staat Aubrey Birch in K1 met de voorstelling CAVES-3. In een immersieve performance – waar je gerust bij kan gaan liggen - herinterpreteert de schrijfster, dichteres en performster de allegorie van de grot. Vertrekkend uit het heden en het alledaagse dalen publiek en performster af naar verleden en toekomst, naar onze geologische roots. Naar de steen in onze botten, het ijzer in ons bloed en het het zout in ons zweet…
Aubrey Birch is Australische en woont in Berlijn. CAVES-3 is de derde voorstelling in een reeks over ondergrondse microkosmossen. De voorstelling werd ontwikkeld in a.pass, een artistieke onderzoeksomgeving die focust op performativiteit en scenografie.
*Toeschouwers worden vriendelijk verzocht de schoenen uit te doen tijdens de voorstelling.
FR | Les 9 et 10 décembre, Aubrey Birch est à K1 avec la performance CAVES-3. Dans une performance immersive - à laquelle vous pouvez vous allonger - l'écrivain, poète et performeur réinterprète l'allégorie de la caverne. Partant du présent et du quotidien, le public et l'interprète descendent dans le passé et le futur, jusqu'à nos racines géologiques. À la pierre dans nos os, au fer dans notre sang et au sel dans notre sueur...
Aubrey Birch est australienne et vit à Berlin. CAVES-3 est la troisième performance d'une série sur les microcosmes souterrains. La performance a été développée à a.pass, un environnement de recherche artistique qui se concentre sur la performativité et la scénographie.
*Les spectateurs sont priés d'enlever leurs chaussures pendant la représentation.