About this Event
** PLEASE REVIEW COVID PROTOCOLS AT BOTTOM OF LISTING. BY PURCHASING TICKETS, YOU ARE CONSENTING TO COVID GUIDELINES LISTED AT BOTTOM.
Doors Open From 10 am - 4 pm, BUT YOU MUST BUY A SPECIFIC ENTRY TICKET TIME. PLEASE LIMIT PARTY SIZE TO 3 PEOPLE. YOU MAY STAY AND BROWSE AS LONG AS YOU WANT
1. JUST ADDED for ALL BRIDES OR GROOMS: FREE* SET OF JVL WEDDING BANDS!!* (Over $500 value)*(just pay shipping! $25/ring)
2. Free SymbolizeIt Acrylic Glass Portrait!!* ($200 Value)   *(just pay shipping! $25)
3. FREE Cavanaugh's BrideBook Wedding Planner
*One Set of Prizes/Couple
Love Starts Here! at Cavanaugh's WeddingShow Sunday November 29, 2020 at MONROEVILLE CONVENTION CENTER, NORTH HALL.
PLANNING or RE-PLANNING a WEDDING of ANY SIZE? Visit Over 50 Wedding Professionals who are sooooo ready to help you with your wedding plans! Check off many of your "To-Do's" before you say "I DO" in ONE place! Don't miss Build-A- Bouquet, and Many Other Specials and Fun Ideas. You MUST buy a specific entry time to Enter.
Tickets MUST be purchased online- you choose your show entry time, however, you can browse all of the awesome Wedding Vendor Booths (over 50) as Long as You Want To! MASKS REQUIRED AT ALL TIMES. FREE PARKING!
For a list of Vendors & Show Specials visit LoveStartsHere.com for all of the details! Vendors, Specials & Samples Updated as Show Gets Closer & Subject to Change! Enjoy the Show!!
 Questions? Contact us at sales@brideshow.com or 412-206-0096
** PLEASE REVIEW COVID PROTOCOLS AT BOTTOM OF LISTING.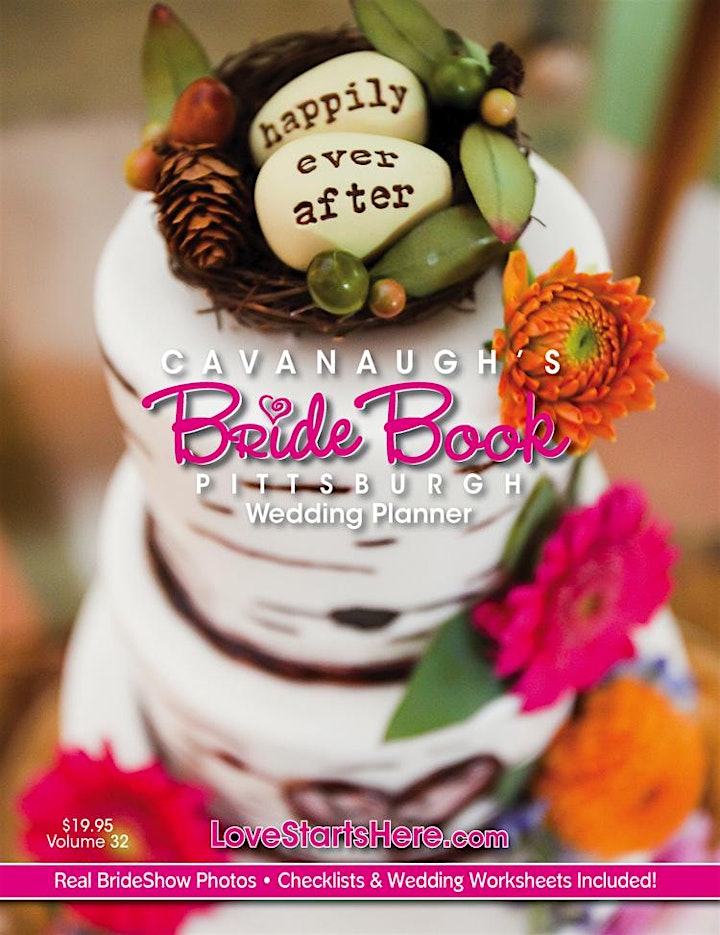 Cavanaugh's BrideShow COVID-19 Precautions
IMPORTANT COVID-19 GUIDELINES
Wedding shows will be different from any hosted in the past. A great deal of thought and consideration has been put into place to ensure the best for our attendees, vendors and staff. We encourage everyone to practice social distancing, wearing a mask & obeying the following guidelines so we can all enjoy Cavanaugh's Wedding Show. Please read ALL of the requirements below - WE MUST ALL WORK TOGETHER AND DO OUR PART!
MASKS REQUIRED AT ALL TIMES WORN OVER NOSE AND MOUTH (attendees, vendors and Cavanaugh's staff)
All tickets will be sold online, You must bring your phone to show tickets
Everyone will be temperature screened upon entrance
Wider aisles with hand sanitizing stations through the show
More space around and in between vendor booths to accommodate social distancing
Please maintain 6 feet of social distance between yourself and other groups
Specific Ticket time frames for entrance to event
Parties of 3 attendees or less-PLEASE!
Event will have no more than 650 attendees at one time—including vendors (Monroeville Convention Center), as mandated by the State of PA.
Increased disinfection and cleaning of public areas throughout show
Extra disposable masks available for those who need one
Please take your temperature before attending the event and stay home if you are experiencing a fever or other symptoms
Stay home if you are not feeling well or have been in contact with someone who has shown symptoms of COVID-19
We are strictly following the most current capacity and guidelines for the State of Pennsylvania and CDC. These guidelines are subject to change. Exposure to COVID-19 is an inherent risk in any public location where people are present; we cannot guarantee you will not be exposed during your visit. Please be kind, patient and respectful to fellow attendees, vendors and staff.
We look forward to seeing you, but the CDC advises that older adults and people of any age who have serious underlying medical conditions might be at higher risk for severe illness from Coronavirus and should be cautious when deciding to attend. Guests should evaluate their own risk in determining whether to attend. People who show no symptoms can spread Coronavirus if they are infected, any interaction with the general public poses an elevated risk of being exposed to Coronavirus. By coming to any event, you acknowledge and agree that you understand and assume these inherent risks associated with attendance.
RELEASE & waiver of liability relating to coronavirus/covid-19
The novel coronavirus, COVID-19, has been declared a worldwide pandemic by the World Health Organization. COVID-19 is reported to be extremely contagious. The state of medical knowledge continues to evolve, but the virus is believed to spread through airborne particles, person-to-person contact, and contact with contaminated surfaces and objects. People can be infected and show no symptoms and therefore spread the disease. To date, there is no known treatment, cure, or vaccine for COVID-19. Evidence has shown that COVID-19 can cause serious and potentially life threatening illness and even death.
Cavanaugh's Wedding Shows cannot prevent you from becoming exposed to, contracting, or spreading COVID-19 while attending any of its events. It is not possible to prevent the presence of the disease at events open to the public. Therefore, if you choose to attend events sponsored, organized, or presented by Cavanaugh's BrideShow, you may be exposing yourself to and/or increasing your risk of contracting or spreading COVID-19.
Assumption of Risk
Upon registration or entry to event, you will be asked if you have read and understood the above warning concerning COVID-19. You understand the risks associated with being in a public space and contagious viruses may be present. You hereby choose to accept the risk of contracting COVID-19 in order to attend the Wedding Show.
Waiver of Lawsuit/Liability
I hereby forever release and waive my right to assert a claim or bring suit against Cavanaugh's BrideShow, including its officers, directors, managers, officials, trustees, agents, employees, or other representatives, in connection with exposure, infection, and/or spread of COVID-19 related to attending a Cavanaugh's event(s). I understand that this release and waiver means I give up my right to bring any claims including for personal injuries, death, disease or property losses, or any other loss, including but not limited to claims of negligence, including the sole negligence of Cavanaugh's BrideShow, and give up any claim I may have to seek damages, whether known or unknown, foreseen or unforeseen.
Choice of Law
I understand and agree that the law of the State of Pennsylvania will apply to this release and waiver.