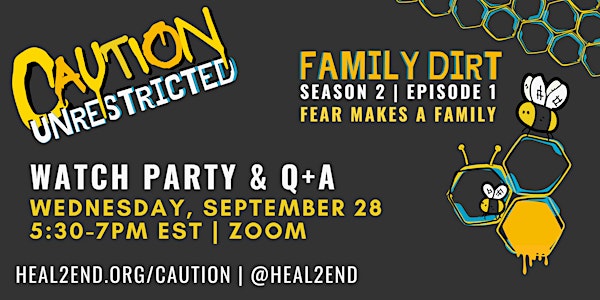 Caution: Unrestricted, New Season Watch Party
Watch the 1st Episode of the New Season w/ Ignacio & Aredvi (Talk & Q+A)
About this event
IT'S FINALLY HERE! The much-anticipated second season of Caution: Unrestricted, "Family Dirt."
In Family Dirt, we journey through layers of complicated feelings and reflect on the power of families to build and destroy us. If there is one thing we know about sexual violence, it's that it starts with family. Do you have family feelings?
Content Warning: This episode includes non-graphic descriptions of childhood trauma, street harassment, domestic violence, teen pregnancy, oppressive family roles, fact-checking child sexual abuse, abusive patterns in family dynamics, alienation, forced obedience, and crushed curiosity. **Please review the trigger guide prior: heal2end.org/triggerguide
Schedule:
5:30 - Ignacio & Aredvi discuss production of CAUTION
6:00 - First Episode Viewing (S2E1: Fear Makes A Family)
6:30-7:00 - Q&A with hosts Ignacio & Aredvi
The episode will get you pondering questions like:
When it comes to talking about sex, bodies, and relationships with parents/children, what were you afraid of as a child, and what are you afraid of as a parent?
How have you managed your own fears, and how have you helped your children manage their fear?
Thinking about sexual violence and children, what did you fear as a child? What do you fear as parent/caregiver?

In case you haven't watched the first season ("Bad Survivors") yet, make sure to check it out at heal2end.org/caution.
Learn more about The HEAL Project. Tax-deductible donation available.