CAUSE 2018 Annual Gala: "The Time Is Now"
Description
Our theme this year is "The Time is Now!" The Asian Pacific American community is one of the fastest growing populations in the United States, but remains severely underrepresented. As our country enters a new era of politics, it is important, now more than ever, to mobilize and empower our community, to make an impact in future elections. We want to ensure that the many voices in our communities are being heard.
The CAUSE Annual Gala is our nonprofit organization's largest fundraiser of the year and the premier APA event for those interested in politics and community. It boasts the largest attendance of APA elected officials and is a celebration of those striving to make an impact in our community.
6:00PM VIP Reception, General Reception, & Silent Auction
7:00PM Dinner Program
FEATURING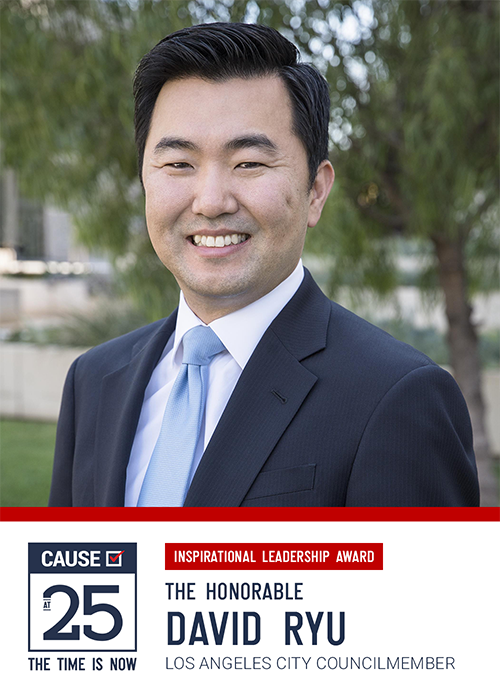 "Inspirational Leadership Award" Honoree
The Honorable David Ryu | Los Angeles City Councilmember
Los Angeles City Councilmember David E. Ryu represents the 4th council district which include the neighborhoods of Sherman Oaks, Toluca Lake, Hollywood, Hollywood Hills, Los Feliz, Silverlake, Miracle Mile, Hancock Park, Windsor Square, Larchmont and a portion of Koreatown.
Ryu studied economics at UCLA; Public Policy and Administration at Rutgers; won a prestigious United Nations graduate internship; and was a Netkal Fellow at USC's School of Social Work.
As Senior Deputy to Los Angeles County Supervisor Yvonne Burke, he worked for years on issues like public health, housing, children and family services, transportation and senior services. He helped oversee the County budget and worked for a time as a Special Investigator for the Auditor-Controller, rooting out waste and fraudulent expenditures.
Ryu returned to the non-profit world and served as Director of Development and Public Affairs at one of Los Angeles's largest non-profit health care providers: Kedren Acute Psychiatric Hospital and Community Health Center.
On July 1st, 2015 Ryu became the first Korean American to serve on the LA City Council and only the second Asian American.

Master of Ceremonies
The Honorable Alex Padilla | California Secretary of State
In 2016, Secretary Padilla oversaw the state's historic General Election. Working with statewide partners, the Secretary helped add upwards of one million registered voters to the rolls. More than 19.4 million Californians were registered and more than 14.6 million cast ballots on Election Day – both state records.
To expand voting rights to more Californians, in 2015, the Secretary sponsored legislation to establish vote centers, expand early voting and implement same-day conditional voter registration. He also sponsored the New Motor Voter Act which will eventually register to vote every eligible California citizen who goes to a DMV office to get a driver's license or renew one, potentially registering millions.
Secretary Padilla also launched "Honor Veterans. Vote." This program provides Californians an opportunity to dedicate their vote in honor of a family member or friend who has served or is actively serving in the military.
Padilla's parents emigrated from Mexico and raised their family in the working class community of Pacoima, California. Padilla attended local public schools and went onto graduate from the Massachusetts Institute of Technology with a bachelor's degree in Mechanical Engineering.
In 1999, at the age of 26, Padilla was elected to the Los Angeles City Council to represent the same east San Fernando Valley community where he grew up. In 2001, his colleagues elected him to the first of three terms as Council President, becoming the youngest member and the first Latino to serve in this capacity.
PARKING
Please note that Figueroa is a one-way street.

Hotel Valet Parking
The LA Hotel Downtown
333 S. Figueroa Street
Los Angeles, CA 90071
From Figueroa Street make a left turn into our Valet Driveway. Hotel Valet Parking is based on first-come basis. The valet parking rate is $15 per vehicle.
Public Parking
World Trade Center Parking
350 S. Figueroa Street
Los Angeles, CA 90071
Figueroa Street Entrance: From Figueroa Street, make a right turn into the garage.
Third Street Entrance: From Figueroa Street, make a right turn at the signal. Garage entrance is to the right.
Guests can take the garage elevators to level A1 which leads to the hotel ped-way. Once guests are in hotel you are on the Meeting Space level.
Parking Rates: $9.00 before $10:00AM, $7.00 after 4:00PM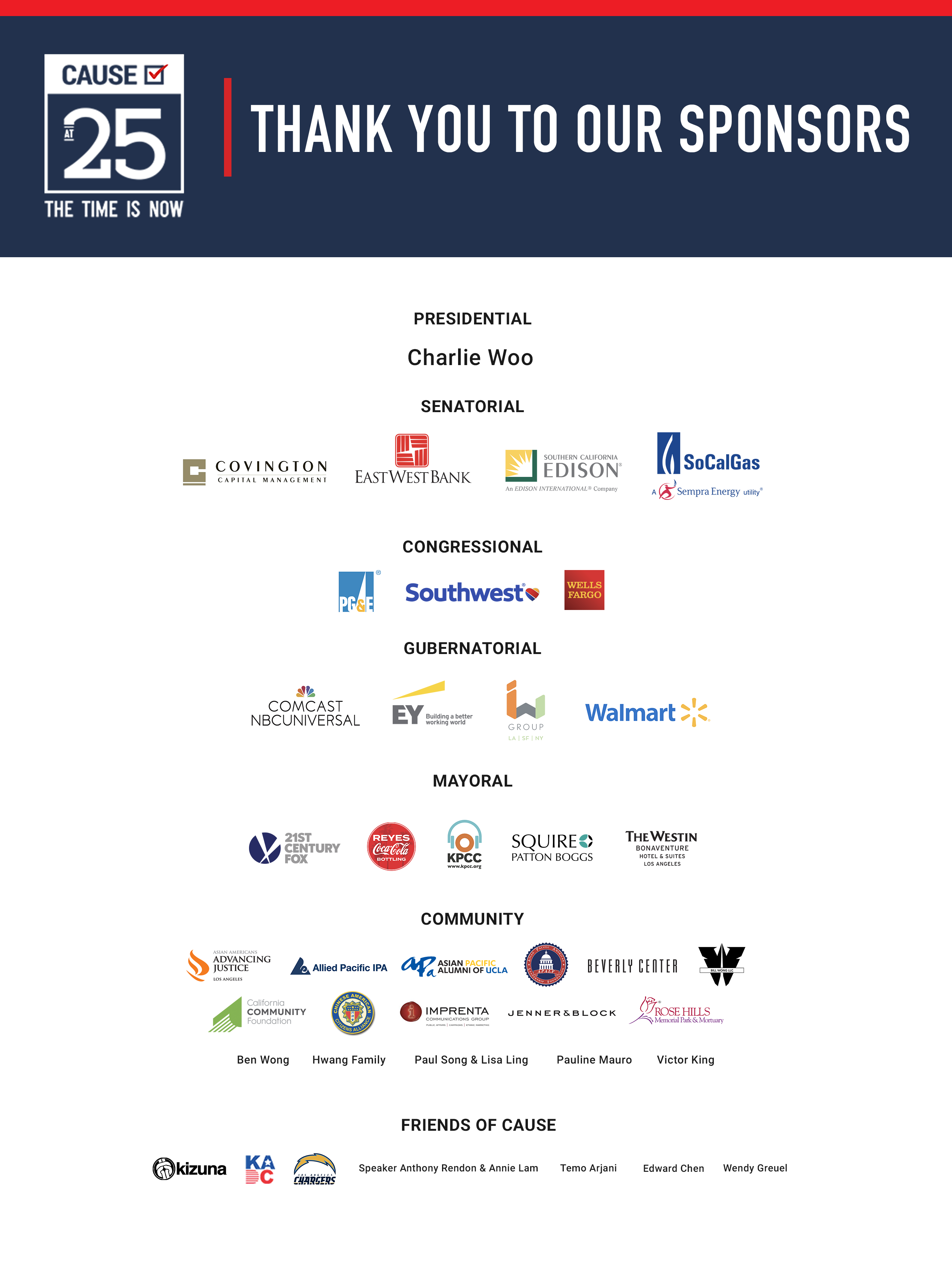 For more information and sponsorship opportunities, please contact CAUSE Executive Director, Kim Yamasaki, at kim@causeusa.org, or call our office at (626)356-9838.
CAUSE is a nonprofit 501(c)(3) organization, Tax ID #95-4458597. Contributions are tax-deductible as permitted by law.