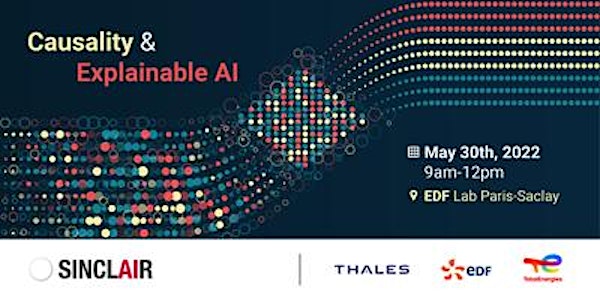 Causality and XAI day (Online)
Join us for a Causality and XAI seminar on May 30th , 9am 12pm.
Date and time
Monday, May 30, 2022 · 12 - 3am PDT
About this event
9h00-9h10: Safety EDF and Introduction Sinclair
9h00-12h00: Intervention by Paul Hünermund, Josselin Garnier and Michèle Sebag
Titles of the presentations coming....
Contact: antoine.bertoncello@totalenergies.com
SINCLAIR
In early 2020, EDF, Thales and TotalEnergies have opened SINCLAIR (Saclay INdustrial Collaborative Laboratory for Artificial Intelligence Research) on the EDF Lab Saclay site.
Its research program is dedicated to the development of artificial intelligence methods and tools (M&O) that meet the shared needs of these three companies. The pooling of R&D personnel from the three companies aims to increase the research effort needed to develop mature artificial intelligence (AI) capable of improving the design and management of complex industrial systems.
https://sinclair-lab.com/