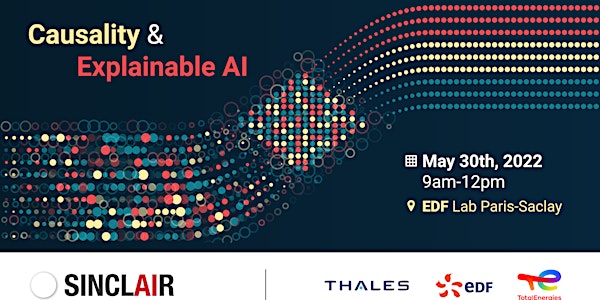 Causality and XAI day (In-Person)
Join us for a Causality and XAI seminar on May 30th , 9am 12pm, hosted by Sinclair and held at the EDF Lab- Palaiseau
Date and time
Monday, May 30, 2022 · 9am - 12pm CEST
Location
EDF Lab Paris-Saclay Boulevard Gaspard Monge Azur 91120 Palaiseau France
About this event
Agenda:
8h30-9h00: Welcome coffee (please arrive a bit come before 9h00 to get badge access)
9h00-9h20: Safety EDF and Introduction Sinclair
9h20- 10h10 Paul Hünermund: Causal Machine Learning and Business Decision Making
10h10 - 11h00 Michèle Sebag: Causal Modelling with Hidden Confounders.
11h00- 12h00 Eric Gaussier: Causal Discovery Methods for Time Series
Contact: antoine.bertoncello@totalenergies.com
SINCLAIR
In early 2020, EDF, Thales and TotalEnergies have opened SINCLAIR (Saclay INdustrial Collaborative Laboratory for Artificial Intelligence Research) on the EDF Lab Saclay site.
Its research program is dedicated to the development of artificial intelligence methods and tools (M&O) that meet the shared needs of these three companies. The pooling of R&D personnel from the three companies aims to increase the research effort needed to develop mature artificial intelligence (AI) capable of improving the design and management of complex industrial systems.
https://sinclair-lab.com/