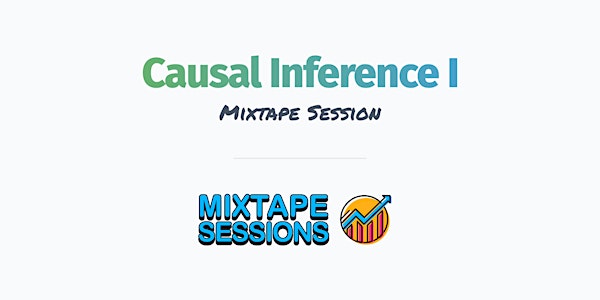 Causal Inference I - Starting September 3rd
Causal Inference I. September 3rd-4th and September 10th-11th Full Schedule: https://www.mixtapesessions.io/session/ci_I_sept3
Refund Policy
Contact the organizer to request a refund.
Eventbrite's fee is nonrefundable.
About this event
Workshop description:
Causal Inference Part I kickstarts a new 4-day series on design-based causal inference series. It covers the foundations of causal inference grounded in a counterfactual theory of causality built on the Neyman-Rubin model of potential outcomes. It will also cover randomization inference, independence, matching, regression discontinuity and instrumental variables. We will review the theory behind each of these designs in detail with the aim being comprehension, competency and confidence. Each day is 8 hours with 15 minute breaks on the hour plus an hour for lunch. To help accomplish this, we will hold ongoing discussions via Discourse, work through assignments and exercises together, and have detailed walk-throughs of code in R and Stata. This is the prequel to the Part II course that covers difference-in-differences and synthetic control.
Daily Structure:
This is a 4-day workshop. The goal of the workshop is for students to gain enough knowledge from the lectures and experience from the programming activities that they become confident and capable enough to implement and interpret these methods in their own work, as well as continue to learn this new material on their own after the workshop concludes. Each day lasts 8 hours with lectures and "coding together" sessions.
About the instructor:
Scott Cunningham is a professor of economics at Baylor University in Waco Texas. He has published in economics outlets such as The Review of Economic Studies, Journal of Urban Economics, Journal of Human Resources, Journal of Public Economics, Journal of Development Economics and more. He is the author of Causal Inference: the Mixtape published by Yale University Press in 2021 and co-editor of The Handbook on the Economics of Prostitution (with Manisha Shah) published by Oxford University Press in 2016. His research focus covers a range of applied topics in health and labor, including sex work, abortion, drug policy and mental healthcare. He has taught dozens of in-person and online workshops on causal inference and difference-in-differences to universities and firms across the world including Facebook, HP, University of Oxford, London School of Economics, University of Pennsylvania and many more.
International and Student Pricing:
Email causalinf@mixtape.consulting for student and international pricing.