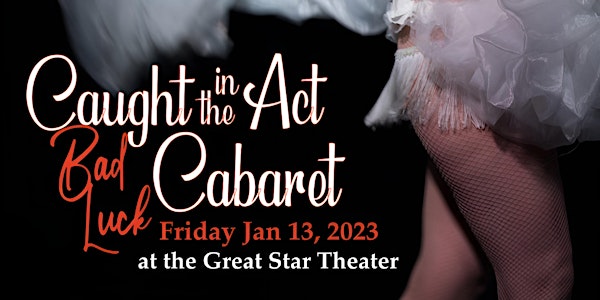 Caught In The Act Cabaret: Bad Luck
Get lucky this Friday the 13th with Burlesque, Comedy, Drag, & More!
When and where
Location
Great Star Theater 636 Jackson Street San Francisco, CA 94133
Refund Policy
Refunds up to 1 day before event
Eventbrite's fee is nonrefundable.
About this event
Turn Friday the 13th into an extraordinary experience that you won't soon forget with Caught in the Act Cabaret: Bad Luck
Friday, January 13, 2023 - doors at 7pm and show at 8pm
Its the first Friday the 13th of 2023, and look who's lucky…you are!
Caught in the Act Cabaret believes that the best way to get past a long string of bad luck is to embrace it…wallow in it and celebrate it. The first Friday the 13th of the new year is the perfect time to confront bad luck and tell it to hit the road.
So come join us in a celebration of bad luck! And don't worry, we have plenty of protection…lucky four leaf clovers, lucky horseshoes, lucky dice, and more!
Caught in the Act Cabaret is a live experience! We curate live shows that feature a lineup of diverse and extraordinary performers from the Bay Area and beyond in burlesque, belly dance, musical acts, drag, comedy, contortion, spoken word, magic, and much more.
Built in 1925, the Great Star Theater is the only remaining theater in San Francisco's Chinatown. Throughout the years it has hosted countless Chinese operas, Chinese movies, local artists, and amazing musical, circus, and variety performers from the world over.
Working to preserve that monumental history while also bringing fresh life to this beloved venue, the Great Star is a community theater which strives to ensure local theater, cabaret, variety, and Chinese opera has a home in San Francisco.
Together, Caught in the Act Cabaret and the Great Star Theater, are bringing you some of the best performers in the area for an extraordinary holiday experience that you won't forget.
Hosted by Trixie Fou Laurant, DJ DaDa and Dizzy FromEarlier
Performances by:
Adriana A
Co-creator, producer, promoter, and resident DJ for the Bootie Mashup brand, Adriana A plays for huge crowds every weekend – as well as live-streaming on Twitch to a worldwide audience – with an unparalleled collection of 100% genre-busting bootleg mashups. As a tireless mashup evangelist, Adriana A has played in cities all over the world, bringing the signature Bootie Mashup sound to five different continents.
Dizzy FromEarlier
Caught in the Act's very own house kitten joins the fight against bad luck! You'll see a lot of Dizzy but you will want more! We can't do this without our Dizzy. From Earlier.
Michael Parykaza
20 plus years performing on trumpet and flugelhorn. Recent additions include valve trombone, percussion, lead vocals, arranging/composition, and piano. Genres include mainstream jazz, blues, funk/soul/r&b, big band (lead & solo), classical, pop, polka, and others.
Misha Del Rey
Something special to put underneath your Christmas tree… From Russia with love!  You've seen this performer at Jolene's for Sunday brunch with WomanopolySF! She's taller than the federation tower, hard as a hammer and ice cold as the sickle that crosses it! Making her Caught in the Act Cabaret debut. 
Pearl E. Gates
Miss Congeniality 2017, 2018, 2019, 2020, 2021, and 2022. She's bubbly, she's perky, and she's tight & nerdy. Co-founder of the only all Weird Al Burlesque troupe, Pearl E. Gates knows how to entertain you! Is that a dancing can of Spam? Yes, it's Pearl E. Gates.
Sgt. Die Wies
Cofounder of Womanopoly and host of the weekly Sunday Brunch at Jolene's Bar, Sgt. Die Wies is a multi-talented, multi-faceted, bad-ass performer, producer, emcee, DJ, drag king, princess, and so much more. Sgt. Is the kind of performer who leaves you asking yourself, "Did I really see what I think I just saw? The 6 foot baby giraffe Sgt Die Wies
Violet on the Rocks
Dancer, fire performer, burlesque artist, singer, dreamer, magic maker
Violet on the Rocks is an award winning, multi-talented variety artist and burlesque performer. She's toured across the country and has dazzled audiences around the globe with her irresistible charm and stage presence. In 2019 she competed and took home two different titles, "Best Variety" at the Hollywood Burlesque Festival and the "Ultimate Reveal Champion'' at the Nudie Nubies Competition.
Wonder Dave
Comedian, writer and burlesque performer from Minneapolis, MN, now living in California. He has toured the country performing at comedy clubs, colleges, cabarets, comic book and science fiction conventions, burlesque shows, theaters, strip clubs, and bowling alleys. Wonder Dave is a commentator for acclaimed independent wrestling show Hoodslam at their monthly Sexy Good Time Wrestle Show. He has been a featured storyteller on the Risk podcast. He is a producer for the podcast Nerd Rage The Great Debates.  Dave's writing has been published in the UK Guardian, the SF Weekly and anthologies by Write Bloody , Lethe Press, and Sibling Rivalry Press.
DJ DaDa
Resident DJ with BootieMashup - the world's greatest mashup dance party, and regular DJ with Caught in the Act Cabaret. DJ DaDa is the guy your parents didn't want you hanging around.
Trixie Fou Laurant
Founder and creator of Caught in the Act Cabaret, and always keeping the Tits in Titilating, the Ass in Classy, the Suck in Succulent, and the Ho in Holiday, Trixie Fou Laurant is your Hostess with the Almostess.
Doors 7pm / Show 8pm
The Great Star Theater - 636 Jackson St, SF