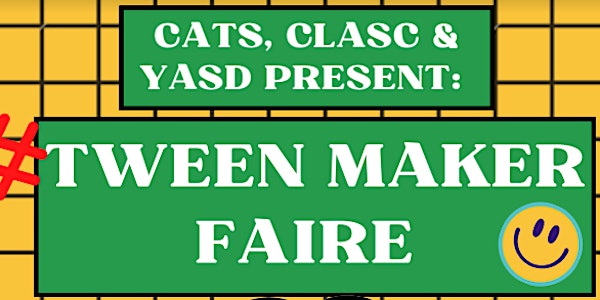 CATS, CLASC, and YASD Present: Tween Maker Faire
Network with fellow librarians to learn all about Makerspaces and STEAM programming for Tweens.
When and where
Location
Middle Country Public Library 101 Eastwood Boulevard Centereach, NY 11720
About this event
CATS, CLASC, and YASD will be running its first ever Maker Faire! This faire will be open to all librarians, but will mainly focus on the tween population.
We are looking for libraries that would be interested in manning a table during the faire to display any technology related items that would be appropriate for tweens. We would also welcome anyone willing to share Makerspace or STEAM programming as well. Our goal is to have librarians come together to network and become familiar with new technologies that they could possibly order for their collection.
Please fill out the Google Form if your library would be interested in having a table at the event to showcase what they offer. The Google Form must be received no later than November 1, 2022.
https://docs.google.com/forms/d/e/1FAIpQLSeja-1OynJtZ975FXvHntBUE_nBlBVLhE2tqDRR1z6JJVbisA/viewform
Please direct any registration questions to: Lauren Strong: lauren.strong@riverheadlibrary.org
Please direct any table reservation questions to:Lauren Tellerman: librarylauren1001@gmail.com