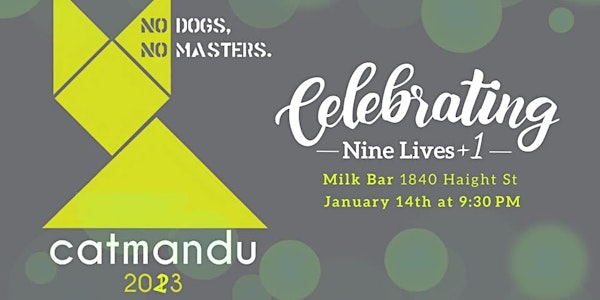 CATMANDU : CELEBRATING 9 LIVES + 1
This Saturday! Come jam out with us at Milk Bar in the Haight!
When and where
Location
Milk Bar 1840 Haight Street San Francisco, CA 94117
Refund Policy
Contact the organizer to request a refund.
About this event
TL;DR: To celebrate Catmandu's 10th Birthday we are throwing a simple night of jams and drinks at Milk Bar. Cheap cover, drinks, tunes, and people you enjoy. Don't miss it.
--------------------------------------------------------------------------------------------------------------------------
It was late December in the Year of Our Feline Overlords 2012.
The Curiosity Rover had just begun tooling around all by its lonesome on the surface of Mars,
"Somebody That I Used to Know" by Gotye (feat. Kimbra) was the #1 song, with "Call Me Maybe" by Carly Rae Jepsen trailing just behind, and the first Avengers movie had just come out. I assume Riley and Atira hadn't been born yet.
At that time, despite many dark harbingers, (Pooh Bear and Vladdy permanently consolidating power, Lonesome George shuffling off this mortal coil, the staying power of those two songs I just mentioned) It appeared that the apocalypse foretold by the Mayan calendar wouldn't come to pass after all.
A multitude of older millennials, now grappling with the idea that they'd actually have to deal with life over 30, cried out as one:
"Well damn. What now?"
"Screw it," said we. "Let's start a Burning Man camp."
And so a naïve gaggle of California-soft DJs and party enthusiasts decided we wanted to build a cat tree and lug it all the way out to the Nevada desert and then back again. Parties were thrown; eardrums, inboxes, and jaws were overworked; funds were raised. And we did the thing.
Catmandu was born.
It could have ended after that first year. We didn't really know what we were doing and the project was complicated, but instead of getting sick of each other and descending into bickering, we had an amazing time and realized that we all loved the absolute crap out of each other. We kept getting together for parties, festivals, and simple hangouts. Everyone started inviting their friends around. Some stayed. Bonds formed. They invited their friends around. And so on.
And here we are ten years later still rallying to the tangram cat head. Our symbol of community and love and snark and dirty beats. God damn, what a crew. What a ride.
To celebrate we are going to do what I assume all 10-year olds do these days: blast loud music and get drunk at Milk Bar in the Upper Haight. 9:30ish-2am.
Be there or be canine.
www.instagram.com/campcatmandu/
www.facebook.com/events/2190362811151377/
Doors at 9:30pm / 21+ Only