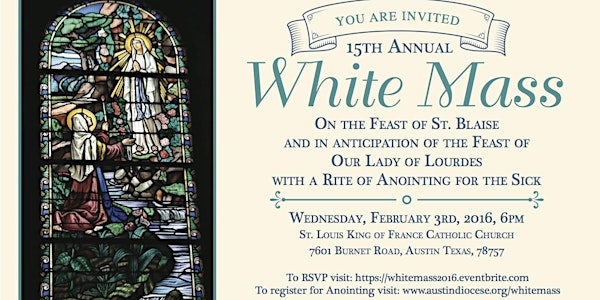 Catholic Healthcare Guild's Annual White Mass
When and where
Location
St. Louis King of France Catholic Church 7601 Burnet Road Austin , TX 78757
Description
The 15th annual White Mass will be celebrated on Wednesday, February 3, 2016 on the Feast of St. Blaise, the physician, at St. Louis King of France Parish in Austin. Very Reverend Bishop Joe Vásquez, Bishop of the Diocese of Austin will celebrate the Mass, which will include a Rite of Anointing.
This Mass, which is sponsored by the Austin Diocese and the Catholic Healthcare Guild, is intended for all Catholics working in health care as well as those in need of healing and anointing. The Celebration will include a blessing for health care workers and the Anointing for the sick for those in need of healing.
Healthcare workers who would like to attend should RSVP here at eventbrite. Those who wish to receive the anointing of the sick are asked to register with the Austin Diocese at www.austindiocese.org/whitemass. Persons who would receive the sacrament include those whose health is seriously impaired by physical or mental illness or old age; those preparing for surgery, if the surgery is caused by serious illness; elderly people who have become notably weakened, even though no serious illness is present; seriously ill children who have sufficient use of reason to be strengthened by the sacrament; and those who have been anointed if they relapse after recovery or if the condition becomes more serious.
A reception will occur immediately following.