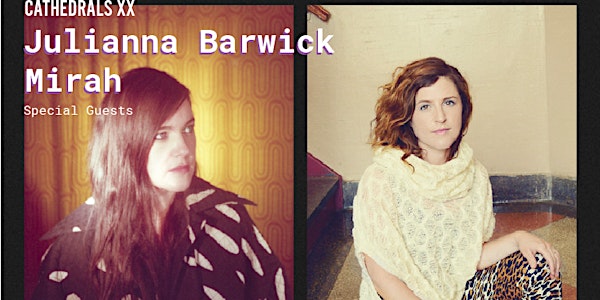 CATHEDRALS XX: Julianna Barwick, Mirah, Elizabeth Gundersen, more @ St Mark's
When and where
Location
St Mark's Cathedral 1245 10th Ave E Seattle, WA 98102
Refund Policy
Refunds up to 30 days before event
Description
KEXP and Abbey Arts presents CATHEDRALS XX:
Julianna Barwick, Mirah,
plus short sets from Elizabeth Gundersen,

Kaeley Pruitt-Hamm (KPH)

, and Lauren Freman


Live @ St Mark's Cathedral, Seattle

Our 20th concert in the CATHEDRALS series
12/2/17, 8:00 show, 7:00 doors
A unique open floor concert experience, quiet picnics welcome
Seating available including chairs, benches, and some floor space around the stage area. We recommend bringing cushions and even blankets if you'd like. Audience can sit or lay down anywhere around the stage.
---
ABOUT JULIANNA BARWICK:
"For nearly a decade now, Julianna Barwick has made a career out of articulating the ineffable. The New York artist's songs are built out of competing clouds of voice—her own—looped, processed, reverbed, and filtered through what sounds like some kind of divine light. Over the course of three progressively more sanguine full-length albums, Barwick has built upon her strengths, slowly adding layers of production finesse as well as deftly-employed instrumentation—synths, cello, drums—to augment her ephemeral sound." --Fader
---
ABOUT MIRAH:
Mirah will be performing some solo songs and with a string quartet for some songs.
"Forlorn love is transmuted into myth and metaphor in songs by Mirah..."
https://www.nytimes.com/2014/05/24/arts/music/mirah-sings-her-new-album-at-music-hall-of-williamsburg.html?_r=1
Bio: "Mirah Yom Tov Zeitlyn has been creating incorruptible independent pop music since the late 1990's. She has released over a dozen solo and collaborative recordings on K Records, Kill Rock Stars and various domestic and foreign independent labels.
Defined by her graceful songwriting and adventuresome recordings, Pitchfork has praised her "incredible voice—a versatile coo that can flit from low, sultry tones to high, airy falsetto in one breath."
Mirah has always sought the creative company of unique collaborators, from multi-media artists and orchestral composers to dj's, Baltic music enthusiasts, and entomologists. A partial list of some of her collaborators includes Phil Elverum (The Microphones/Mount Eerie), Merrill Garbus (tUnE-yArDs), Tara Jane O'Neil, Khaela Maricich (The Blow), Melanie Valera (Tender Forever), Jherek Bischoff, Lori Goldston, Britta Johnson and Ginger Brooks Takahashi." Mirah lives in Brooklyn, New York.
Check out the New York Times article
---
Elizabeth Gundersen: Bandcamp
Kaeley Pruitt-Hamm KPH on Facebook

----------------
TICKETS:
$14 student advance, $16 general advance, $24 reserved front rows (not including fees)
$20 day of show (cash/credit)
Series pass for 12/1 & 12/2 available
Special early bird tickets celebrating our 20th CATHEDRALS concert are $10! ($10 tix are SOLD OUT)
All ages, mostly seated, bar w/ ID
Nonprofit, non-religious, presented by Abbey Arts
MORE INFO:
Open seating.
St Mark's is ADA
We are an all ages venue.
Please refrain from talking or texting during the show
No cameras with audible shutters or audible sounds allowed.


NOTE: Venue is under renovations so some parts of the building may not be available or visible on this date. Thank you for understanding.
OTHER IMPORTANT & UNUSUAL EVENT DETAILS:
SEATING:
To create a "giant living room" effect we offer an unusual concert experience with informal seating on the floor up front surrounding the stage and lots of pews, benches, and chairs around the space.
We highly recommend you bring blankets and cushions to create a more comfortable experience whether sitting on the floor or seats. Quiet and non-messy snacks/picnics are allowed. No outside alcohol please.
NOISE:
Please actually silence all devices. Turn off vibrate, rings, etc.
NO CAMERAS WITH MECHANICAL SHUTTERS (This goes for Press too unless approved to shoot during applause only.) That means silent digital cameras/photos are ok but we really recommend you enjoy most of the show through your own 'retina screens'.
Anyone exhibiting loud or disruptive behavior during the event will be asked to leave.
Absolutely no talking during the performances please, this room is very live acoustically and everyone will hear you. :-) We are unable to provide a separate room for viewing this event if you are not able to be silent, so please plan accordingly before purchasing tickets. These shows are very very pin drop quiet so please consider that when deciding what ages are appropriate. No cry room available at this venue and even voices in the lobby will be heard in the concert space.
SOCIAL:
Mark your photos: #seattlecathedrals and tag @abbeyarts on Instagram or Facebook, @fremontabbey on Twitter
NEXT SHOWS:
4/13/18 - CRY CRY CRY reunion tour
Sign up for our email list to get presale passwords and news for future shows plus exclusive recordings from Mirah, Damien Jurado, Gundersens, Mary Lambert, and more. http://www.fremontabbey.org/mixtape
Past CATHEDRALS shows have featured Agnes Obel, Damien Jurado, Mirah, My Brightest Diamond, Jeremy Enigk, Noah Gundersen & Family, Sera Cahoone, Lemolo, Led to Sea, The Moondoggies, Tomo Nakayama, Shenandoah Davis, Kelli Schaefer, Campfire OK, Bryan John Appleby, and more.
http://www.abbeyarts.me/cathedrals for info, past shows, videos, etc.
ABOUT ABBEY ARTS
Abbey Arts is a Seattle nonprofit curating welcoming arts & cultural experiences for people of all ages & incomes.
We support low income families, veterans, and humanitarian nonprofit workers with free event tickets. Work at a nonprofit? You may be able to get free tickets to Abbey Arts events - www.fremontabbey.org/artsconnect
NONPROFIT 501C3, NON-RELIGIOUS, SINCE 2005
www.fremontabbey.org | www.abbeyarts.me
/ 4272 Fremont Ave North, Seattle, WA 98103 / 206-414-8325