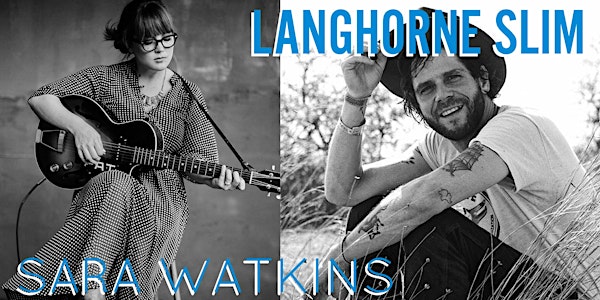 CATHEDRALS XVII: Langhorne Slim & Sara Watkins, Haley Heynderickx
When and where
Location
St Mark's Cathedral 1245 10th Ave E Seattle, WA 98102
Refund Policy
Contact the organizer to request a refund.
Description
Abbey Arts, KEXP and KUOW present CATHEDRALS XVII:
Langhorne Slim & Sara Watkins


ABOUT SARA WATKINS:
Formerly of Nickel Creek, has appeared on
A Prairie Home Companion
and many more.
"Her new work has an intimacy that comes from moving beyond formal risk-taking into a new commitment: to a sound that acknowledges Watkins' folksy roots while dwelling unabashedly in the personal and the contemporary." –
NPR Music
[Sara has toured with] "...the Decemberists, Jackson Browne, Sarah Jarosz and Aoife O'Donovan as the sweet treat of an Americana trio called I'm With Her, and, most recently, Patty Griffin and Anais Mitchell.
http://www.huffingtonpost.com/michael-bialas/alone-again-super-natural_b_10496832.html
ABOUT LANGHORNE SLIM:
"For the past 10 years, Sean Scolnick (a.k.a Langhorne Slim) has been winning loyal fans by playing and recording songs that blend the sensitivity of modern folk with the energy of modern punk. " - The Bluegrass Situation (Full interview: http://www.thebluegrasssituation.com/read/coming-home-myself-conversation-langhorne-slim )

"I'm a strong believer that sensitivity and vulnerability are not weaknesses. They're some of the greatest strengths of man and woman kind. And that's what a lot of the record is about." -Langhorne Slim
Langhorne Slim: SPOTIFY | WEBSITE
Live @ St Mark's Cathedral, Seattle
8:00p show, 7:00p doors
A unique open floor concert experience, quiet picnics welcome
Seating available, including chairs, benches, and floor space
$16 student advance, $20 general advance (not including fees)
$25 day of show (cash/credit)
All ages, mostly seated, bar w/ ID
MORE INFO:
Open seating.
St Mark's is ADA
We are an all ages venue.
Please refrain from talking or texting during the show
No cameras with audible shutters or audible sounds allowed.
OTHER IMPORTANT & UNUSUAL EVENT DETAILS:
SEATING:
To create a "giant living room" effect we offer an unusual concert experience with informal seating on the floor up front surrounding the stage and lots of pews, benches, and chairs around the space.
We highly recommend you bring blankets and cushions to create a more comfortable experience whether sitting on the floor or seats. Quiet and non-messy snacks/picnics are allowed. No outside alcohol please.
NOISE:
Please actually silence all devices. Turn off vibrate, rings, etc.
NO CAMERAS WITH MECHANICAL SHUTTERS (This goes for Press too unless approved to shoot during applause only.) That means silent digital cameras/photos are ok but we really recommend you enjoy most of the show through your own 'retina screens'.
Anyone exhibiting loud or disruptive behavior during the event will be asked to leave.
Absolutely no talking during the performances please, this room is very live acoustically and everyone will hear you. :-) We are unable to provide a separate room for viewing this event if you are not able to be silent, so please plan accordingly before purchasing tickets. These shows are very very pin drop quiet so please consider that when deciding what ages are appropriate. No cry room available at this venue and even voices in the lobby will be heard in the concert space.
SOCIAL:
Mark your photos: #seattlecathedrals and tag @abbeyarts on Instagram or Facebook, @fremontabbey on Twitter
NEXT SHOWS:
Sign up for our email list to get presale passwords and news for future shows plus exclusive recordings from Mirah, Damien Jurado, Gundersens, Mary Lambert, and more. http://www.fremontabbey.org/mixtape
Past CATHEDRALS shows have featured Agnes Obel, Damien Jurado, Mirah, My Brightest Diamond, Jeremy Enigk, Noah Gundersen & Family, Sera Cahoone, Lemolo, Led to Sea, The Moondoggies, Tomo Nakayama, Shenandoah Davis, Kelli Schaefer, Campfire OK, Bryan John Appleby, and more.
http://www.abbeyarts.me/cathedrals for info, past shows, videos, etc.
ABOUT ABBEY ARTS
Abbey Arts is a Seattle nonprofit curating welcoming arts & cultural experiences for people of all ages & incomes.
We support low income families, veterans, and humanitarian nonprofit workers with free event tickets. Work at a nonprofit? You may be able to get free tickets to Abbey Arts events - www.fremontabbey.org/artsconnect
NONPROFIT 501C3, NON-RELIGIOUS, SINCE 2005
www.fremontabbey.org | www.abbeyarts.me
/ 4272 Fremont Ave North, Seattle, WA 98103 / 206-414-8325

All sales are final.
MORE ABOUT THE ARTISTS:
"This is a breakup album with myself..." says Sara Watkins of her third solo record, Young in All the Wrong Ways. Writing and recording these ten intensely soul-baring songs was a means for her to process and mark the last couple years, which have been transformative. "I looked around and realized that in many ways I wasn't who or where I wanted to be. It's been a process of letting go and leaving behind patterns and relationships and in some cases how I've considered myself. What these songs are documenting is the turmoil you feel when you know something has to change and you're grappling with what that means. It means you're losing something and moving forward into the unknown."
That sense of possibility infuses the songs on Young in All the Wrong Ways with a fierce and flinty resolve, which makes this her most powerful and revealing album to date. In some ways it's a vivid distillation of the omnivorous folk-pop-bluegrass-indie-everything-else Watkins made with Nickel Creek, yet she makes audacious jumps that push against expectations in unexpected ways. These songs contain some of the heaviest moments of her career, with eruptions of thrumming B3 organ and jagged electric guitar. But it's also quiet, vulnerable, tenderhearted. In other words, bold in all the right ways.
Recently Watkins found herself without a manager at the same time she was leaving the label that released her first two solo albums. For many artists that might be the worst possible time to enter the studio, but working without a net invigorated Watkins. It was important for her to document this time in her life when she was between professional contracts: free from the weight of obligation to anyone but herself. In that regard the tumultuous title track sounds like the first song of the rest of her life. Her backing band create a violent clamor, with Jon Brion's sharp stabs of electric guitar punctuating the din and Jay Bellerose's explosive drumming ripping at the seams of the song. In the chaos, however, Watkins finds clarity: "I've got no time to look back, so I'm going to leave you here," she sings, with new grit and fire in her voice. "I'm going out to see about my own frontier."
Fittingly, Watkins wrote or co-wrote every song on Young in All the Wrong ways—a first for her. Her previous albums have featured well-chosen covers that compliment her own songs and showcase her interpretive abilities. "I love singing other people's songs, and originally I did plan to have a couple of covers on the album. But as we were recording and getting a picture of how everything fit together, it became apparent that the covers really stood apart from the story that was taking shape. I felt like I just had a little bit more to say. Everything is coming from me, so there's a unified perspective on this album that's different from what I've done before."
Some are lonely and quiet: "Like New Year's Day" describes in careful detail a trip out to the desert, and the low-key arrangement echoes the reassuring isolation of the southwestern landscape. Other songs are more extroverted, their volume and energy a means to reach out to friends and colleagues. "Move Me" opens as a loping pop song, but soon explodes into a walloping rocker as Watkins demands, in a voice that strains against composure, "I want you to move me!" It's a time-stopping performance: Janis Joplin by way of Fleetwood Mac.
"That song is about relationships that have gone stagnant, how sometimes we just go about the process of making small talk in order not to stir anything up," she says. "But it's sad when you can't have a meaningful conversation with people after a while. Even if they hurt you, you just want to feel something from them. You don't relate to each other the same way as you once did, so you have to decide if you're going to invite this person further into your life or just move on."
Watkins knew just the right people to bring these tough-minded songs to life. She corralled longtime friend and fellow fiddler Gabe Witcher to produce, then put together a band that includes two of Witcher's fellow Punch Brothers: guitarist Chris Eldridge and bass player Paul Kowert. Providing harmonies on the title track are Sarah Jarosz and Aoife O'Donovan, Watkins' bandmates in I'm With Her, and Jim James of My Morning Jacket provides a vocal foil on "One Last Time." "I've known these guys for a long time, so there's a personal trust as well as a musical trust. I was able to put my heart and soul into these performances, in a way that I don't think I would be able to if I was in a room full of strangers. It allowed me to give myself over to some of these very personal thoughts that are in the lyrics."
To say these are personal lyrics might be an understatement. They're beyond personal, whether she's confessing some long-held regret or gently consoling a friend. Young in All the Wrong Ways ends with "Tenderhearted," a quietly assured song that Watkins wrote about a few of her heroes: women like her Grandmother Nordstrom who have weathered hard times with grace and have provided Watkins with examples of how to live her life. "They're women who have endured so much yet emerged with love, strength and kindness. I remember someone saying, It's so sad how much she's had to go through. And I remember thinking, That's why she's such an incredible person. She faced all those trials and came out the other side."
Watkins would never be so bold as to count herself in their company; instead, she aspires to follow their example. But Young in All the Wrong Ways does reveal an artist who has managed to transform her own turmoil into music that is beautiful and deeply moving: "God bless the tenderhearted," she sings, "who let life overflow."
Sometimes, truth can't be explained. But it can be felt, running wild through a song. "I don't want to tame myself. I want to be wild," says Langhorne Slim. "If I can continue to refine the wildness but never suffocate or tame it, then I'm on the right path. Because it is a path. I feel it."
'The Spirit Moves' is Langhorne's newest artistic attempt to refine the wildness. The result is an effervescent collection of his now-signature, cinematic, joyful noise, rooted in folk, soul, and blues. Out on Dualtone Records on August 7th, 2015, the album marks his second with rock-solid band The Law, and the highly anticipated follow-up to 2012's critically acclaimed 'The Way We Move.'
'The Spirit Moves' is a stunning portrait of Langhorne's life in transition: the "born to be in motion and follow the sun" rambler found a home in Nashville, Tennessee. While he's put down roots in a place, he's unattached to a person, single for the first time in recent memory. 'The Spirit Moves' is also the first album of his career written and recorded entirely sober. Together, the record's beautiful glimpses of bold beginnings and risks taken create an ode not only to a better life, but to the vulnerability needed to live it.
"I'm a strong believer that sensitivity and vulnerability are not weaknesses. They're some of the greatest strengths of man and woman kind," Langhorne says. "And that's what a lot of the record is about."
Langhorne and The Law sought out engineer Andrija Tokic (Alabama Shakes, Hurray for the Riff Raff) and recorded 'The Spirit Moves' at Tokic's studio, the Bomb Shelter, in East Nashville. Producing duties were shouldered by Langhorne, the band, and trusted cohort Kenny Siegal, reuniting the family behind 'The Way We Move.'
"I went to battle with my demons, and I'm still doing it," Langhorne says. "My brothers stood beside me and kicked ass on the record." Three of his brothers are The Law: drummer Malachi DeLorenzo, bassist Jeff Ratner, and keys and banjo player David Moore. "My band is not a hired gun group of guys," Langhorne says. "They are my band and they are uniquely spectacular."
And then, there's brother Kenny Siegal. "In Kenny, I've found a musical brother," he says. "We drive each other crazy, but the man understands me somehow in an energetic, spiritual sense, more than most anyone I've ever met."
Langhorne wasn't looking for a co-writer, but that's exactly what Siegal became for eight of the record's songs, making 'The Spirit Moves' the first time Langhorne has ever written with someone else for an album. For Langhorne, writing is often an arduous process. "I rarely write a complete song immediately," he explains. "Every once in a while, one hits, but songs mostly come in pieces. Those pieces build up and start to taunt me as they swirl around in my head. Eventually, they make me feel like I'm going totally crazy. It's like they're gonna devour me -- eat me alive."
He pushed through alone to pen some of the tracks, chasing each song's individual truth. In creating others, Siegal helped him put the pieces together.
What emerged is a record that delights in contradiction: freewheeling but purposeful; celebratory but confessional; looking to light even when it's dark. Langhorne's voice -- an arresting howl sublimely at home in a Mississippi roadhouse or on a Newport stage -- has never sounded better.
He wrote the title track just weeks before entering the studio, "terrified that I didn't have enough and what I had wasn't good enough." The song is no mere reflection, but a manifestation of unbridled joy, and a celebration of opening up oneself to the supernatural that surrounds us.
"Changes" is an intimate look at a soul being reborn, but Langhorne hopes each listener can hear something of their own in it. "When I'm writing, it's coming from a heart or soul kind of place, not the mental zone of 'Well, I moved to Nashville and I got sober and I'm single and I'm going through changes, so let's write a song about it,'" he says. He calls infectious garage-pop growler "Put it Together" "the most painful song I've ever written," not because of the subject matter, but because of the process. He found the opening lines and crunchy chords while seeking relief after his beloved 1977 Mercury Comet was stolen. But then, the song took months to complete. "I've never worked that hard to get a song," he says.
The refusal to let a heart harden helped bring about "Life's a Bell," a dreamy call-to-action that nods to 50s rock-and-roll and Sly and the Family Stone. "A lot of my music is celebration of light," he says. "It's a horrible thing to shield our hearts and not be vulnerable."
"Wolves," based on a James Kavanaugh poem, tackles similar subject matter, and Langhorne feels it's the "truest expression of myself that I've put into a song." "I'm tough enough to run with the bulls, and I'm too gentle to live amongst wolves," he sings, his soul-shouting subdued to a hush that's just as powerful.
The rollicking "Southern Bells" pulses with the optimism of a new day, while "Strongman" and its piano pay tribute to perseverance and seizing the moment. "Whisperin'" captures another kind of breakthrough, relatable and intense, while "Strangers" is classic Langhorne Slim, and begs to be danced to, uninhibited and free.
"Airplane" is a poignant example of his ability to capture the redemptive hope in desperation. Part meditation, part urging of an unnamed co-conspirator, the song puts his defiantly tender vocals front and center, hugged by a rotating cast of instruments that kicks off with stark guitar and piano, swells into lush strings and percussion, then ebbs back into its stripped-down beginning -- like the waves of confidence and doubt that make up faith itself.
The song is undoubtedly a career standout for Langhorne, and creating it was a long road. Three key "muses" -- his Grandma Ruth, dear friend Joel Sadler, and another confidant -- gave him encouragement along the way. "I kept going for 'Airplane' because it made sense to me and there were people around me who were moved very deeply by it," he says. "It's one of my favorite songs I've ever written."
With a new home and a clear head, Langhorne is exhilarated thanks to the realization of what he knew was possible. "I had a problem with drugs and alcohol from the time I was 15 until I quit last year on my 33rd birthday," Langhorne says. "I was hitting my head against the ceiling. I knew all I had to do was quit, and my head would burst through that ceiling. I didn't really know what would be there, but I knew it'd be something greater."
For Langhorne, something greater includes making the best music of his life.
"By opening myself, I'm vulnerable and I'm fearful, but I start to get real. And in that realness, there is immense strength that I wish for everybody," Langhorne says. "Maybe everybody's scared to be a freak. But when you live as a freak -- " he laughs -- "it's so much more fulfilling."