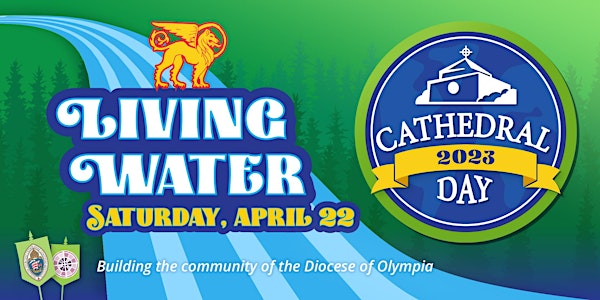 Cathedral Day 2023: Living Water
Cathedral Day is a celebration of the community of the Diocese of Olympia: the Episcopal Church in Western Washington.
By The Episcopal Diocese of Olympia
Date and time
Saturday, April 22 · 9am - 2pm PDT
Location
Saint Mark's Cathedral 1245 10th Ave E Seattle, WA 98102
About this event
Cathedral Day is a celebration of the community of the Diocese of Olympia—a "family reunion" for Episcopalians from across western Washington. Cathedral Day is a time for connecting across communities, experiencing your cathedral in a new light... and it's a lot of fun. There's something for everyone—no matter your age! This year's Cathedral Day coincides with Earth Day. The theme of "Living Water" will be reflected in the liturgy and in the day's activities, which emphasize creation care.
A liturgy of Holy Eucharist with the rites of confirmation, reception, and reaffirmation for candidates from parishes near and far will begin at 10:30 a.m., opening with a grand, colorful procession of parish banners. Following the service, all are invited to enjoy lunch from food trucks and participate in activities for all ages.
The schedule for the day is as follows:
• 9:00am - Confirmands, Sponsors, Clergy, Church Representatives arrive for rehearsal, meet with Bishop Melissa Skelton
• 10:10am - Procession forms: candidates, sponsors, clergy and banner holders line up. All congregations attending Cathedral Day are invited to bring your banners to carry in procession and to bring a small container of water from your part of the world. The water you bring will be poured in the baptismal font during the liturgy and will be part of the water we will use when we asperge the people as they remember their baptisms
• 10:30am -12:30pm - Confirmation liturgy
• 12:00pm - Food trucks ready for lunch service
• Activities - 12:30pm - 2:00pm
• Earth friendly activities: smoothie station & healthy food demonstration, courtesy of Nurturing Roots Farm; Leffler garden & cathedral watershed tour; butterfly release; garden-themed photo booth; Rogation Day resources; carbon tracker sign-ups for households and churches
• Also: a bounce house, sponsored by Camp Huston; tour/demonstration of the mighty Flentrop organ; recycled paper airplane-making and launch from the organ loft; a collaborative art project, and more!
•Everyone is welcome to attend the liturgy, and if you are unable to attend, you are most welcome to participate in the afternoon activities and enjoy some delicious food.
Please register all attendees in order to receive your food truck vouchers.
STREAM THE SERVICE OR VIEW THE RECORDING
Saint Mark's Cathedral streams all of its services to their main livestream page:
https://saintmarks.org/worship/live-stream/
After the service ends, they create a new post on the website where the archived recording of the stream will be available.
About the organizer
The Diocese of Olympia is made up of more than 26,000 Episcopalians in more than 100 worshiping communities through Western Washington. Our geographic area stretches south from Canada to Oregon and west from the foothills of the Cascade Mountains to the Pacific Ocean.
Through worship we:
Affirm our faith
Pray together
Reconcile together
Share peace and thanksgiving together
Gain strength and renewal through Eucharist
Prepare ourselves to minister to the world.