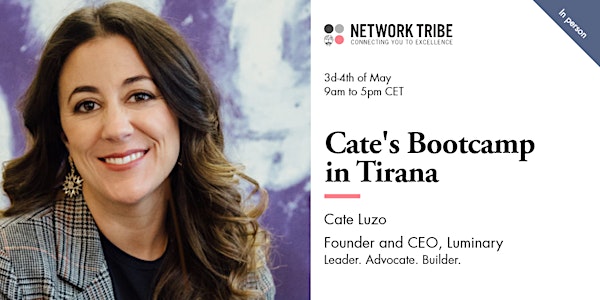 Cate's Bootcamp in Tirana
Join Cate's boot camp in Tirana, and with her support you can set clear and actionable goals and map out a plan to develop the skills
When and where
Location
To Be Determined To be Determined 1001 Tirana Albania
About this event
Are you stuck in this hybrid situation of working? It has been a difficult period to find motivation even more to inspire teams. Would you like to learn how to manage working and growing in a hybrid environment?
Join Cate's boot camp in Tirana, and with her support you can set clear and actionable goals and map out a plan to develop the skills and experience to get there.
We provide a number of tools and discussion guides to help facilitate these conversations
Objectives:
Professional and Career Development
Building Confidence
Risk Taking
Investing in Your Network
Building Better Client Management
Fundamentals of Client Management
Developing Long-Term Client Relationships
Audience: Focused on Banking and Financial Services Industry: Retail Managers, Line Managers, Sales Managers, can also include C-suite and/or Senior Leadership
Cate Luzio, Founder and CEO, Luminary
Cate Luzio spent two decades in financial services leading global multibillion-dollar businesses. During this time, she also led many of the institutions' women's networks and saw the disproportionate number of men to women and women of color in the senior ranks. She recognized the problem was a lack of investment and development of talent in the female pipeline, rather than a lack of talent itself.
In 2018, she launched and self-funded Luminary, a membership-based career and personal growth platform and collaboration hub created to address the systemic challenges impacting women across all industries and sectors.
Prior to Luminary, Cate was Global Head of Multinational Corporate Banking for HSBC, managing more than 2,000 employees worldwide and prior to that, she served as Head of Multinational Corporate Banking at J.P. Morgan EMEA based in London. She spent her early years in Latin America with Bank of America across both consumer and wholesale banking. She started her career working in tech in China. Cate was named to American Banker's 'Most Powerful Women in Banking' list multiple years in a row, is a three-time Financial Times Global Diversity Champion, and a two-time Yahoo Finance Diversity Hero. She remains committed to leveraging her extensive corporate experience to support and encourage women and push for gender equality and pay parity in the workplace.
Cate was recognized as one of Forbes' Next 1000 Entrepreneurs in 2021 and a Top 100 Female Founder by Inc. in 2019. She has been featured as an expert in top-tier financial, business and lifestyle media including Bloomberg, CNBC, Fast Company, Yahoo Finance, CBS, CNN, WSJ, Forbes, Inc., Entrepreneur, InStyle, TheStreet, Thrive Global, USA Today, New York Post, Bustle, Robb Report, American Banker, and Fortune. She is currently a contributing writer to Fast Company, Business Insider, and Worth.